Upcoming Webinar: Reduce the Risk of Falls with Aquatics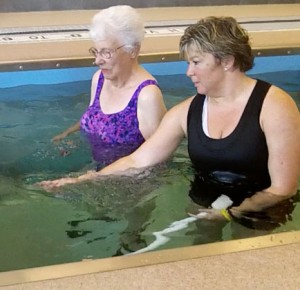 According to the US Centers for Disease Control and Prevention, one-third of Americans aged 65 and older fall each year with up to 30% experiencing fall-related injuries that negatively impact functioning and independence. Muscle weakness and gait impairments are the most common causes of falls in older adults. Falls are also the leading cause of fatal injury and the most common cause of non-fatal trauma-related hospital admissions among older adults.
Join the ICAA along with HydroWorx on Wednesday, November 5 at 1:00pm EST for the webinar, "Reduce the Risk of Falls with Aquatics," presented by Jackie Halbin, Living Well Manager at Lakeview Village in Lenexa, Kansas. Participants will learn how to enhance fall prevention programs by using the pool for strengthening and balance training. Adding aquatics options to land-based fall prevention, appeals to many different levels of clients. The aquatics environment can be manipulated to allow individuals to complete tasks at a comfortable level, progress "on the fly" and build self-confidence. Helping people develop lower body strength and agility while improving their balance and awareness of center of gravity enables them to stay independent longer.
Attendees will learn:
Why water is the perfect environment for fall prevention training.
How to encourage participants to improve by creating personal profiles that show their progress.
How aquatic training improves scores on assessments conducted on land.
Which techniques create a sense of camaraderie among participants to improve attendance and retention rate.
Register today for this webinar>>