Upcoming Webinar: Influence of an Aquatic Environment on Cognition and Gait
The connection between cognition and gait in patients recovering from illnesses, injuries and surgeries through aquatic therapy exercise has been a little-researched topic.  Two doctors from Utah State University in Logan. UT have made great strides in understanding those connections.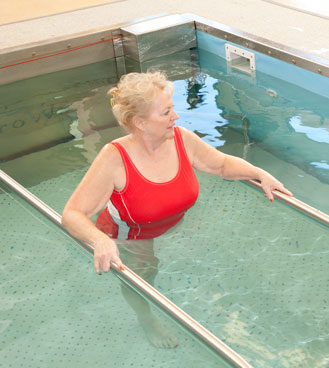 Join us April 22, 2015 from 1:00pm to 2:00pm EDT for the free webinar, "Influence of an Aquatic Environment on Cognition and Gait." Dr. Eadric Bressel, Professor and Clinical Research Scientist in the Sports Medicine Program and Dr. Dennis Dolny, Department Head of Health, Physical Education & Recreation in the College of Education & Human Services at Utah State University will be discussing some of their latest research discoveries. 
Research is exploring two big questions about aquatic environments: (1) How does walking in shallow water compare to walking on an underwater treadmill or on land? (2) Does the aquatic environment influence cognition? To answer these questions, leading researchers have begun to explore the direct and indirect effects of aquatic therapy in regards to cognition and gait. These questions will also help to answer why aquatic programming may have additional value for your participants, beyond what was previously understood. 
Attendees will explore:
The biomechanical differences between locomotion on land, in shallow water and on an underwater treadmill. 

How water immersion influences cognitive function using a dual-task paradigm.
Who will benefit from this webinar: 
Physical and occupational therapists and assistants

Wellness directors and coordinators

Aquatics and fitness directors

Professors and researchers