Upcoming Webinar Focuses on Teaching Proper Sprint Movement Patterns in an Aquatic Environment
High performance athletes are always looking for unique ways to gain a competitive advantage and improve their athletic performance.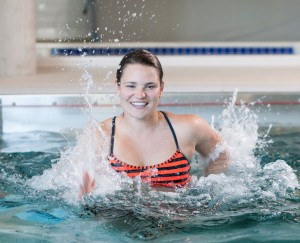 On December 16, 2015 at 1:00PM EST Bryan McCall, RSCC*D, Director of Performance and Brian Abadie, CSCS, High Performance Coordinator at Michael Johnson Performance, will present the free webinar, "The Advantages of Teaching the Sprint Movement Pattern in an Aquatic Environment." This dynamic webinar will explore one strategy that can be used to give elite athletes a competitive advantage and improve their performance. In this webinar, the presenters will describe the valuable role that aquatic training plays in developing speed and improving athletic performance. Based on the theories of the world's leading experts, and combined with the innovation of water as a training medium, the movement pattern that defines speed will be revealed in this webinar to assist all practitioners in the execution of running faster. Specific training techniques will be demonstrated with pictures and videos.
During the webinar attendees will learn:
What the sprint signature is
Advantages of aquatic training
Limb velocity in water compared to land
Learn more and register today!