Upcoming Webinar: Aquatics for Wellness
Join us for a free webinar, "Aquatics for Wellness: Creative Ways to Engage Participants," on June 25, 2014 from 12:00pm to 1:00pm EDT. Barbara Cacia, BS Ed., Wellness Coordinator at Pieters Family Life Center, will be the presenter of this upcoming webinar.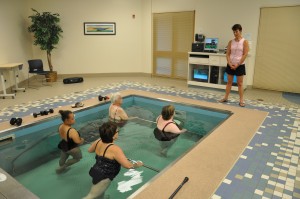 In this webinar, Barb will explore many different approaches to wellness using water exercise that will have your residents leaving with a positive outlook and feeling good about themselves and their bodies. She will also identify ways to match participants to the class that is best for them so they participate in safe exercise routines that will allow them to live a full life. You'll also learn creative ways to engage your participants with conversation that promotes the well behaviors essential for their success–during and after your programming.
Attendees will explore:
Tactics to name your program appropriately to attract the right participants
Techniques for engaging participants so they will tend to their own wellness on a daily basis
Creative ways to communicate to your participants
About the presenter:
Barbara Cacia, BS Ed., is the Wellness Coordinator at Pieters Family Life Center in Rochester NY, where she has the privilege of using a HydroWorx Pool as a component of her wellness programming. She is a personal trainer, a trainer in "Chronic Disease Self Management" and many Arthritis Foundation Self Help Programs.  She has been fortunate to have worked in a variety of settings over the past 30 years, including community pools and physical therapy programs.  She has developed "The Care and Management of Fibromyalgia." This comprehensive program helps people take charge of their FMS with the goal of returning to a satisfying lifestyle.