Upcoming Free Webinar on Hydrotherapy in a Collegiate Sports Medicine Program
Join us for a free webinar on "Integrating Hydrotherapy into a Collegiate Sports Medicine Program."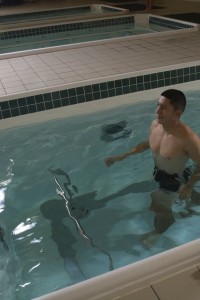 On May 29, 2014 at 1:00PM EDT Phil Voorhis, MSEd., ATC, Assistant Athletic Director for Sports Medicine & Athletic Training at Northern Illinois University, will present a dynamic webinar on how to integrate hydrotherapy into a collegiate sports medicine program. In this webinar, Voorhis will outline the valuable role that hydrotherapy plays in his university's sports medicine program. He will begin with why he and his team decided to explore incorporating hydrotherapy into their facility and the decision making process that led to the purchase of their pool. He will discuss the logistics of integrating this piece of hydrotherapy equipment into their facility, including overcoming initial challenges and concerns. He will also describe the day to day management of an effective collegiate hydrotherapy program that treats athletes from multiple sports and how he and his team maximize the use of their pool. Phil will finish with a unique case study of the rehabilitation of an Abductor Longus Avulsion in a college football player.
During the webinar attendees will learn:
The advantages of water for a collegiate sports medicine program
Why Phil and his team at NIU chose to implement hydrotherapy
How to successfully manage a large project like incorporating hydrotherapy into an athletic facility
Tips for athletic trainers new to using hydrotherapy for college athletes
How to successfully manage the day to day operations of a college hydrotherapy program
Ways to ensure that a hydrotherapy pool is used to its full potential
Phil Voorhis has spent the last 14 seasons leading the NIU sports medicine operation. He directs a staff of 10 athletic trainers who provide Northern Illinois' 486 student-athletes in 17 sports programs with medical care at each practice and competition. Voorhis works directly with the Huskie football and men's and women's golf teams.
A certified member of the National Athletic Trainers Association (N.A.T.A.), Voorhis is also an active participant in the Great Lakes and Illinois Athletic Trainers Associations. He is a past president of the IATA after a term as regional representative to that group's Board of Directors and has given numerous speeches to such groups as the Illinois State Bar Association, the GLATA Winter Symposium and the N.AT.A.
In addition to his work with Huskie student-athletes, Voorhis has been an advocate for preventative medical care and safety on campus. Through his efforts, defibrillators were added to all university police vehicles and at all major campus athletics venues. He instituted a CPR certification requirement for all Northern Illinois Athletics staff and is active with the local chapter of the American Red Cross, working with that organization's Disaster Team and as an instructor.