Underwater Treadmill Study Shows Benefits for Fitness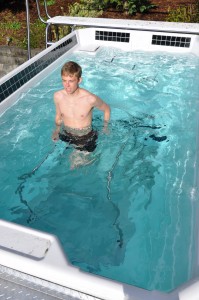 With just 46 days left until the 2012 London Summer Olympics, the opportunity to become Olympic medalists for Mo Farah and Galen Rupp has become very real. The training is far from over, if anything it  has quite possibly increased considering the proximity of the Olympics and the goals both runners have set.
Rupp and Farah coached and trained by Alberto Salazar, train using a variety of methods including the HydroWorx underwater treadmill. Salazar has the elite runners train on the indoor and outdoor track, in the weight room, on the treadmill and in the water. Numerous studies have shown the benefits of running underwater and using an underwater treadmill.
One study, in particular, done by the Division of Health, Physical Education, Recreation and Dance from the University of Idaho 'investigated the cardio-respiratory responses elicited during maximal-effort' runs using an underwater treadmill and a land treadmill.
There were 23 'recreationally competitive male and female runners' used as the participants for the study. Each individual performed 'two maximal-exertion runs', one on the land treadmill and the other on a HydroWorx underwater treadmill.
The researchers measured cardio respiratory rates, perceived exertion and blood lactate after each run (measured breathing, tiredness and oxygen/lactic acid levels in blood).
The runs were separated by 48 hours to allow proper recovery.
The results of the test demonstrated similar outcomes for land treadmills and underwater treadmills. However, 'heart rate decreased during underwater treadmill exercise.' The researchers concluded that the underwater treadmill is a viable training alternative to maintain or improve fitness levels for injured and healthy athletes.
And Salazar does just that for his runners at the Oregon Project.
Salazar explains: "We don't consider it an alternative to running outside.  We consider it as important as running outside. It helps us become stronger by running against the resistance of the water and it helps us recover from our dry land training."
Salazar and the runners at the Oregon Project rely on HydroWorx underwater treadmill running to:
Supplement outside land training with 30-40 minute water runs 4-5 times/week
If injured, safely keep training to prevent de-conditioning
Increase weekly mileage for important competitions without increasing the risk of injury
Create a constant state of active recovery using water's unique healing properties during runs
To learn more about the two Olympic hopefuls and the training techniques of Alberto Salazar, check in frequently at HydroWorx's 'Underwater Run to London' website. We have the latest articles and images and videos from the runners as they gear up for London 2012!
To read the full study report from the University of Idaho click here.