Underwater Treadmill and Cameras Are a Powerful Combination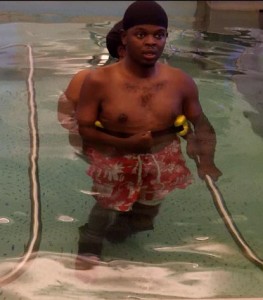 The concept of an underwater treadmill and video cameras is one that often intrigues people and sounds like a neat idea. It is difficult, though, to always grasp how powerful that combination can be and the impact it can have.
Miles Brothers is a 28 year old traumatic brain injury survivor and is experiencing, first-hand, the benefits of that combination. Brothers suffered a gun shot wound to the head 6 years ago which has left him with stroke-like symptoms. He lacks the ability to move his right arm and both legs. He eventually found his way from Missouri to The Wellness Center at Tri-City Medical Center in Carlsbad, CA. He had tried many different physical therapy programs, but nothing was as effective and beneficial as his current combination of aquatic therapy and neurological physical therapy.
Brothers and his aquatic physical therapist, Ann Kenney, have seen great value from using the HydroWorx 2000 Series pool. To start, the use of the water provides buoyancy, which removes the "heaviness" from limbs that struggle to move with gravity. It also provides a safe environment in which to try things that would not otherwise be attempted on land for fear of falling. Using the advanced features of the pool, patients are able to be wheeled directly onto the pool floor and lowered to the appropriate depth. As Brothers explains, in the water he is able to relax, and once he relaxes, he has more success focusing solely on moving his legs. The underwater treadmill allows him to have a more natural gait pattern (as opposed to a static pool) without having to adjust his arm placement. Just as important is the ability to see his movements underwater via the video system. With this, Kenney can give him specific cues to correct his gait and he is able to get visual feedback on the small movements he is making.
Kenney notes that although the improvement may seem small to some, he was able to create hip flexion after 5-6 sessions in the pool and has been able to make forward advancing movements because of the underwater treadmill and camera. Because he is able to work so hard in the pool and make visual connections between his thoughts and his movements, he is able to transfer that feeling to his work on land as well.
Watch the video below to learn more about Brothers' story and his work in the pool:

To see other videos on traumatic brain injury recovery using aquatic therapy, visit our video library>>