Underwater Marathon Update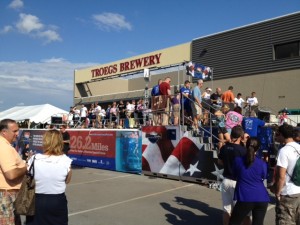 You may or may not know that HydroWorx, in partnership with The Eagle Fund, held its first ever Underwater Marathon last September to help provide world- class care to America's injured warriors. It was an amazing event and quite a feat!  (see behind the scenes photos on this post from last year: Behind the Scenes)
Thanks to the  support of over a thousand donors and 120 volunteers,  over $400,000 was raised in cash donations at the First Ever Underwater Marathon held September 9, 2012! On top of that great effort by all, over $250,000 of "in-kind" donations poured in from companies throughout Central Pennsylvania to cover the vast majority of expenses for the event.  It was a true team effort from everyone involved and we are grateful!
Ten months after the event, we wanted to spread the word that these collective, specific efforts in the Underwater Marathon have helped over sixty (60) Special Operations Warriors have the opportunity to heal themselves at Athletes' Performance and The Andrews Institute in Gulf Breeze, Florida.  With these efforts, the program has expanded beyond their initial intentions to help even more warriors and it's really taking off.
Recently, our leaders and a handful of large donors went down to Gulf Breeze to witness the Restoration and Conditioning program in full action.  We saw 13 Spec Op Warriors training and recovering during our visit and attempting to make it back to Active Duty.
Alex Lincoln, founder of the Eagle Fund, also updated us that since October 2012, over 120 Spec Op Warriors have gone thru the program with a success rate of 95% so far.  Before the Underwater Marathon in September 2012, Alex said that 102 Warriors had gone through the program in the previous 18 months.  A big increase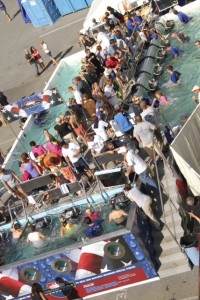 in spec op flow through the program.
It's working!  Fantastically, per Alex, the fine Men we met and their families.  Thanks to everyone who participated in some way for helping change the recovery path for these men and set them on a road to rapid healing and active duty — the life they deeply want to lead again.
Now an UPDATE on the next Underwater Marathon Timing:  It was unanimous after talking with Alex Lincoln, the Eagle Fund team and the HydroWorx gang and volunteer leaders:  we will be having the Second Underwater Marathon in September of 2014.
Please stay tuned for more information. If you are interested in being a Volunteer or Sponsor, we'd love to have you join us! Please also look for registration for next year's race to open in January 2014. Sign up for email updates on the Underwater Marathon at the website: www.underwatermarathon.com
We can't thank those who donated their time, efforts and money enough for their belief in the Eagle Fund cause and in the Underwater Marathon idea! They helped make it a reality and we are incredibly grateful for their trust in us and for believing that a company in Pennsylvania and a gracious charity in Florida can team up and change some lives.  No one deserves our help more than these selfless Special Operations Warriors.
Watch the segment from the July 21, 2013 episode of Fox & Friends that featured HydroWorx and the Underwater Marathon at this link>>
Page Updated on: June 16, 2020