Underwater Marathon Efforts Bring Special Honor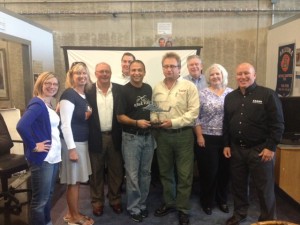 A few weeks ago, one of our suppliers, Kaman Industrial made a special visit to our office. They were in to discuss some details about their products and services, but they also came with a helicopter. We're not sure what mode of transportation they took from Boston to Harrisburg, but the helicopter that accompanied them was only a fraction the size of a normal helicopter.
This helicopter is a special replica of a cutting edge helicopter that Kaman plays a role in creating. This is the first of its kind to be unmanned and deliver needed goods and supplies in war zones, without endangering humans.  It is 100% remotely operated/ or computer operated. This breakthrough technology is doing amazing things.
You may be wondering why Anson (CEO & Co-Founder) and HydroWorx were awarded with such a unique and special gift.  That's a fair question.  After all, we manufacture aquatic therapy pools; the connection is less than obvious.
If you're familiar with HydroWorx, particularly within the last year, you may know that we partnered with the Eagle Fund to put on the first ever Underwater Marathon in September 2012.  The goal of the Underwater Marathon was to help our nation's wounded Special Forces warriors receive the specific rehabilitation and care they needed in order to return to serving our nation. This rehabilitation takes place at the Andrews Institute in Gulf Breeze, FL.
This Underwater Marathon's goal and success, struck a chord with Kaman President & CEO, Neal Keating, who is very involved himself with military causes. He was extremely touched by what the Underwater Marathon was doing for our special forces and made it a priority to send some of his team down to Middletown to deliver the helicopter.
As a company, we are deeply honored to have received this special model helicopter as we know that piece of equipment is also greatly helping our nation. We also appreciate and are humbled by the kind words of encouragement from Mr. Keating. We are thankful to everyone who was a part of the Underwater Marathon and helped to raise the support for our troops.