U.S. Senate Hopeful Tom Smith Visits HydroWorx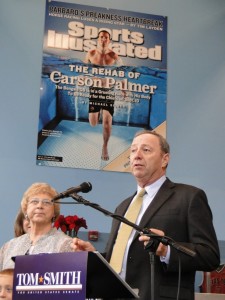 On Tuesday, September 27, 2011, U.S. Senate hopeful Tom Smith, a tea party favorite from the western part of Pennsylvania, kicked off his campaign at HydroWorx headquarters in Middletown.
During his speech, he quipped:
"I am humbled and encouraged by the support I have received in my campaign, from Republicans … and also from Democrats and Independents who believe it may be time for Mr. Smith to go to Washington."
Anson Flakes, president and co-founder, HydroWorx, noted to the press:
"He's putting himself out there to try to change things. That impresses me.  He doesn't have to stand up, he could just enjoy the fruits of his labor for so many years. I'm impressed that he's doing that."
We wish Smith luck as he starts his journey to become a U.S. Senator!