Training on New Modalities Makes a Difference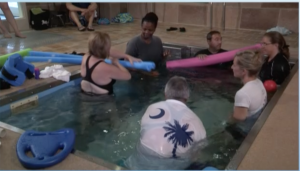 The following blog post has been summarized from the recent article on McKnights.com, "How training revitalized our aquatics program" by Joseph Hilleary, director of therapy at Wesley Glen Retirement Community.
Investing in high-end modalities with advanced technology is a great way to differentiate your physical therapy practice or senior living community from competitors, but getting proper training and staff engagement can make a world of difference in its success.
Wesley Glen Retirement Community recently saw the effects of this. Director of therapy Joe Hilleary recently described to McKnight's how training took an aquatics program from underutilized to successful. After some staff turnover and lack of focus, the aquatic therapy program at Wesley Glen left much to be desired. Once they were able to properly train their staff to see what was capable with the advanced technology they had access to, things began to turn around.
As the possibilities of who and what they could treat expanded in their minds, they began seeing a difference in their clients as well. Joe tells a story of one woman in her mid-50s who had previously tried multiple therapies for her chronic back pain without much success. With the new-found knowledge of how the pool could benefit different client populations, the staff decided to have her try aquatic therapy. She was thrilled with her success and felt the positive affects of her therapy throughout her daily routine.
By expanding their client use of the pool, they have also seen referrals and word-of-mouth clients increase. It truly has created a domino effect for Wesley Glen. Joe summarizes,
 "Investing in modalities that bless our patients is the right thing to do. For these amenities to achieve maximum effectiveness — both from a revenue and a health standpoint — it's imperative that we continually train our staff and build programs."
We look forward to seeing how Wesley Glen continues to grow their program and success in the coming years!
To find out more about why water worx for senior living communities, download our white paper>>