Total Knee Replacement Case Study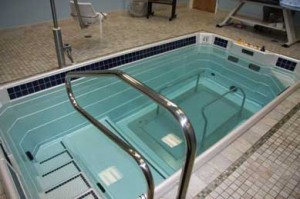 According to the Agency for Healthcare Research and Quality, more than 600,000 knee replacements are performed each year in the United States. Many patients experience great relief from this surgery, but sometimes the recovery is more difficult than patients initially expect. The physical therapy that accompanies the recovery is extremely important but can be tiring and frustrating. It is helpful for patients to understand that their full participation in and out of a physical therapy session is the key to success.
For one patient at Peak Performance Physical Therapy in Lynbrook, NY, his second knee replacement recovery progressed well thanks to that understanding and the additional use of aquatic therapy during his rehabilitation. Wayne Hayes had his second knee replaced but came to Peak Performance about 8 weeks post-op when he was still having trouble with stairs, range of motion and pain in the knee.
Peak Performance Physical Therapy sees a lot of success using their HydroWorx 500 Series pool with underwater treadmill for joint replacements.
Request a Free Info Kit     View Our Products     Find a Pool Near You
Exercises For Underwater Treadmills
The advantages they see from using the underwater treadmill come from being able to do a wide variety of exercises including:
forward walking
backward walking
sidestep walking
straight-leg "goose" walking.
By doing all of these exercises, they are able to have patients use their entire leg and surrounding muscles to help strengthen the leg from all angles.
In this particular case, Wayne quickly saw a great benefit from aquatic therapy – he no longer had a limp, his pain was reduced and he was better able to navigate stairs better. His confidence improved in the water where he could get the feel for proper gait without the risk of falling. The warmth of the water was a welcome relief during the cold months but was also beneficial for healing and increased range of motion.
Request a Free Info Kit     View Our Products     Find a Pool Near You