To the Moon and Back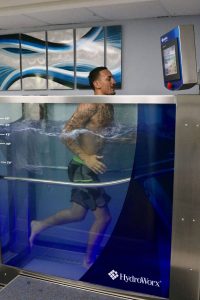 To become a physical therapist, she traveled 10,020 miles round-trip for 7 years.
Her partner stole from her as a new business owner.
She's pioneering aquatic therapy in Central O'ahu.
Her name is Julie Moon and in 2004, she started Moon Physical Therapy, determined to provide cutting edge care for her patients and hopefully never work for an employer again.
Her Story
Julie was born and raised in Wahiawa, Hawaii. She ventured all the way to Denton, TX for her bachelor's degrees from Texas Woman's University, then to American International College for a second bachelor's and a master's degree in physical therapy.
"The University of Hawaii had been promising a physical therapy school for years," explained Julie. "I was hoping to stay home for that. But I found a good fit in Springfield, Massachusetts and decided I could leave home for more education. By the time I finished school I had no desire to travel."
Moon became acquainted with the power of aquatics when she interned in Honolulu with, then worked for the father of aquatic therapy in Hawaii, Dr. Jan Prins.
"Working for Dr. Prins was a great experience in that I saw first-hand how the pool helped our clientele. I knew I eventually wanted to be able to offer it to my patients."
After an adverse experience with her next employer, Moon branched out on her own, having been out of school for just three years. She opened a tiny clinic with two friends and began treating a handful of patients.
"Looking back, that was a huge mistake. I quickly found out I had set my business up totally wrong. One of my friends stole money from me. The three of us split. I was devastated."
Young, broke, a lease to pay, overwhelmed. But determined.
"While trying to recover from the hurt, I realized, 'I still have a few patients. I can treat them!' So I did. I changed the business name to Moon Physical Therapy and continued working with the few clients I had. After three years, I found a larger location in Ward (Honolulu) and promptly got a pool."
Together with an admin staff of one, Moon worked hard just to get her name out, collaborating with physicians to build her reputation as the go-to place for aquatic therapy. Now 15 years later, Moon has two locations and three HydroWorx 350 units.
"We opened the Mililani location (roughly 45 minutes northeast of Ward) last October and tripled our patient load there in three months.
Our patients and their doctors seem to be grateful that we're offering quality aquatic care on the other side of the island. It had been a tough commute through traffic for our patients who were coming from outside of the city."
Why Aquatics
"We offer a lot of therapy options in our clinics, including infrared, cold laser, ultrasound and manual therapy, but the water is the most integral part of our practice. Our patients seem to have gone everywhere, tried everything before coming to us. They find relief and healing in the water.
"In the water, we work on multiple areas of pain simultaneously. That is an effective use of our patients' time. And they leave the water feeling better than they did previously."
Moon PT has found a special niche in treating cardiopulmonary patients with water. One patient, who suffers from postural orthostatic tachycardia syndrome (POTS), experiences heart rates that jump from 70 BPM to 200 BPM in seconds. Many times, these sudden spikes result in the patient fainting. Exercise decreases symptoms of POTS', but, for obvious reasons, a taxing workout is difficult to achieve; on land, anyway.
"The hydrostatic pressure of the water allows the heart to work harder without increasing the heart rate; heart rates stay lower under water, so this patient can achieve better cardio output with little risk of passing out. It's been a miracle for her. The underwater treadmill allows her to ambulate with a normal gait and she's up to an hour of interval exercise training. It's brought down her level of anxiety tremendously. She's able to walk her small children to school and drive to appointments. No other environment could have provided these outcomes in such a short amount of time."
Julie and her staff of (now) 12 are busy designing a marketing plan to outreach to doctors in Mililani, knowing when physicians from this side of the island catch wind of the aquatic wave, they'll want in.
Page Updated on: March 31, 2020