Three (More) Illnesses That Can Benefit from Aquatic Therapy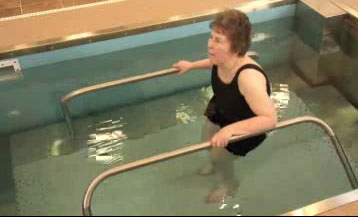 Water can benefit a host of people with any number of physical conditions or orthopedic rehabilitation needs. More and more, water therapy is being used for rehabilitation from an orthopedic injury or surgery and aquatic exercise is gaining popularity in the older populations, for good reason. There are other illnesses that don't typically get associated with aquatic therapy, but people are seeing positive gains in their capabilities as a result of aquatics.  Water provides a medium with natural properties that are helpful when dealing with certain conditions, such as:
1. Alzheimer's – Exercising in the water can provide a way for those with Alzheimer's to stay active. Many physicians believe that activity is the key to longevity with this disease, but many times staying active is difficult. Warm water exercise is an ideal way for these patients to maintain or increase their activity levels without adding stress to their joints or risking falling.
2. Parkinson's Disease – With the use of advanced aquatic technology like a moveable floor, patients with Parkinson's disease can safely access the pool without a ladder or stairs. Once in the pool, the warm water often provides an environment where they can enjoy some independence with security, reduced rigidity and increased body control.
3. Multiple Sclerosis – The weakening of muscles and joints can inhibit one's ability to exercise on land (when it is most crucial to work on strength). Aquatic therapy provides a safe place to build lean muscle mass and increase strength. Using underwater treadmills combined with underwater video cameras, patients are able to instantly correct gait problems and improve function.
Watch how one patient, who suffers from both MS and Parkinson's Disease, has seen success from working in the water:
Find out more about how aquatic therapy can help patients with these conditions here>>