Three Golden Reasons the Bears Utilize Aquatic Therapy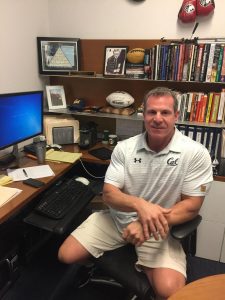 Mike Blasquez, CSCS, ATC and Director of Strength and Conditioning at UC Berkeley, has been training student-athletes for more than 14 years.  Cal student-athletes compete at the highest collegiate level as members of the Pac-12 Conference of Champions. Mike recently discussed with us three aquatic therapy applications for his student-athletes:
Rehab.  When an injury has occurred, our Certified Athletic Trainers and Physical Therapists work in a one-on-one setting with patients in the water. The water is beneficial for low intensity exercise, post-surgical, and/or post-injury rehabilitation. When standing chest deep in water, the body is unloaded, reducing the patient's bodyweight to as little as 10 percent of his or her normal weight. This allows the joints to decompress while reducing the risk of re-injury. The athletes move through normal gait patterns while using the water's natural properties to enhance mobility.
Re-conditioning.  Water helps us transition our athletes from rehab back to normal activity. An athlete may be ready to reinstate a running program with partial body weight. The pool allows us to reintegrate ground reaction forces by progressively exposing the body to gradual increases in impact. Again, the athlete is still in a one-on-one or one-on-small group setting with our Certified Athletic Trainers or Physical Therapists. We get them back into a running motion and at the same time train them metabolically without compromising their injury.
Recovery.  The training process is about systematically implementing high levels of physical stress to illicit positive training adaptations. In order for the body to compensate, we utilize different recovery strategies using low impact exercise methods to promote recovery. Water allows us to reach higher volumes of training without inducing mechanical impact stresses which contribute to fatigue. From a metabolic and energy system standpoint, the athletes are conditioning. Simultaneously, the water is promoting recovery through hydrostatic pressure and resistance, pushing blood through the connective tissues and joints. By using hydrotherapy, we are raising the ceiling of training.
#  #  #
UC Berkeley invested in a HydroWorx system in 2011. Any reference to a specific product, process, or service does not constitute or imply an endorsement by the University of California at Berkeley. The views and opinions expressed do not necessarily state or reflect those of the University.