The Value of Aquatics for Gait and Balance Sessions
The following blog post has been summarized from the recent presentation, "Addressing Gait and Balance Impairments in the Pool" at APTA-CSM 2017 by Emily Dunlap, PT at Central Texas Rehabilitation, Austin, TX.
At the Combined Sections Meeting of the American Physical Therapy Association (APTA) in February, Emily Dunlap, PT, presented a promising topic, "Addressing Gait and Balance Impairments in the Pool" hosted by the Aquatic Physical Therapy Section of APTA. Emily is the chairperson of the Certificate in Aquatic Physical Therapy Clinical Competency (CAPTCC) program.
The audience had a variety of specialties including Orthopedic, Pediatric, Sensory Integration, Geriatric, Sports and Neurologic. For all of these specialties, applying evidence-based practice supports the need for aquatic intervention to address gait and balance impairments with patients.
Gait and balance training is an act of learning, relearning and/or correcting the way a patient walks. In the case of relearning how to walk, it is often accomplished through physical therapy on land to help prevent falls, strengthen muscles and joints, improve balance and posture, develop muscle memory and build endurance. Improving a patient's gait and balance and thereby increasing a patient's physical activity and movement has also proven to reduce other illnesses such as heart disease and osteoporosis. It is important to always emphasize the positive for your patients, allow movement exploration and guide for success but allow mistakes. This is an important step in the learning process for the patient.
Download the balance and falls tipsheet to reduce falls and improve balance.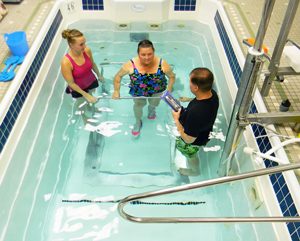 What is the importance of gait and balance training in water vs.  on land? It is vital to recognize the properties of water that affect gait and balance:
Buoyancy reduces the impact of gravity and allows for greater ease of movement with weak muscles and eases pain caused by weight-bearing issues.
Warmth enhances the nervous system, reduces muscle tone, reduces anxiety and reduces pain.
Viscosity offers more time for individuals to react to balance changes.
By taking advantage of an underwater treadmill and aquatics, in general, patients can practice skills such as single leg stance with support much easier in the pool. This forces them to build core strength and motor planning strategies during stance control.
Request a Free Info Kit     View Our Products     Find a Pool Near You
It takes practice and routinely experiencing the water to improve gait and balance. Begin by finding a missing component that effects gait and/or balance. Work on the missing component in the pool and check for progress, then re-access land gait measures at selected intervals. Examples of gait measures included strength, pain levels, endurance, flexibility, balance and motor planning.
Warm water decreases inflammation and alleviates up to 90% of a patient's body weight. The negative side effects that often come with land-based rehabilitation are significantly reduced underwater, thanks to increased balance, circulation, flexibility and mobility.
With underwater treadmill therapy, patients can undergo gait training without fear of falling. This helps aging patients feel more successful and they are less likely to cancel aquatic therapy sessions. Having great tools, such as aquatic therapy pools with underwater treadmills, in place can help patients regain independence by engaging in low-impact gait and balance training.
Download the FREE tipsheet on how water reduces falls, improves balance and increases muscle strength here.>>
Page updated on: August 7th, 2020