The Perfect Match: Aquatic Therapy Benefits Patients and Communities
The following blog post has been summarized from the recent McKnights Marketplace Blog, "Aquatic Therapy: How it's beneficial to clinics and clients," written by Kathleen Kristoff of Athena Therapy.
Kathleen Kristoff is an occupational therapist with Athena Therapy who treats patients with a holistic approach. One method she uses in her holistic approach is aquatic therapy which can impact everything from a patient's ability to move to their emotional state and everything in between.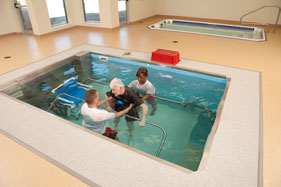 Kathleen shares that the most important reason senior living communities, and truly any facility, should consider using aquatic therapy is the benefit water water therapy can have for patients.
Buoyancy: Water's natural buoyancy allows patients with joint pain to move more freely without pain. Kathleen shares that she has seen so many individuals move in the water in ways that would be impossible for them on land.
Warmth: Creating a warm and soothing environment is not as easily achievable on land as it is in a therapy pool. Kathleen recommends keeping your therapy pool at a comfortable 92 degrees, which creates a therapeutic environment to allow for increased mobility.
Hydrostatic pressure: This pressure creates a natural resistance for patients so they can stand longer, walk more easily and have better posture in the water.
Kathleen also discusses how aquatic therapy doesn't only benefit your clients. Your facility can reap the benefits as well. If you have an advanced aquatic therapy pool with an underwater treadmill and resistance jets, you more than likely have something that's not offered in your surrounding community. You can market your senior living community as specialized and unique with this state-of-the-art amenity. Kathleen shares that they have had patients who continue to go to a facility with a HydroWorx therapy pool even with private pay or limited insurance, and those patients remain loyal. 
If you are considering adding aquatic therapy to your current offerings, Kathleen offers a few tips:
Understand your market.
Get to know the orthopedic surgeons in the area.
Seek additional revenue sources.
Reach out to the pain management doctors in your area.
Thoroughly train your staff on the benefits of adding an aquatic therapy pool.
Develop a maintenance plan for taking care of the pool.
Kathleen enjoys the aquatic environment for many reasons, but more importantly she believes that any senior living community that decides to take the plunge in adding aquatic therapy is setting the stage for incredible results and rewards.
Are you interested in learning more about how water therapy can benefit your community and residents? Download our free white paper, "Why Water Worx for Senior Living & Senior Services," today!