The Life of a HydroWorx Trade Show Pool
We are all back safe and sound from San Diego after a very successful APTA-CSM show, but what about the pool? Have you ever wondered how the HydroWorx trade show pool gets from point A to point B and then back again? No, we do not put it on a plane or a train. Seven days before the opening of the show, a flatbed truck arrives to carefully drive our aquatic therapy pool and other materials across the country to eventually get to the Convention Center.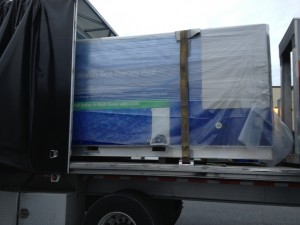 Once the truck arrives at the convention center, the set-up process begins. Between hooking up the electric, filling the pool with water and setting up all of our marketing materials, this is typically a 2- day production.
And the end result….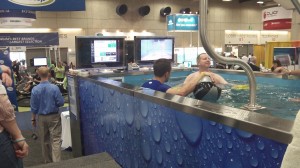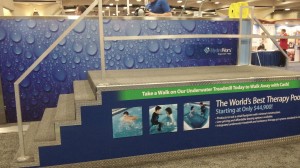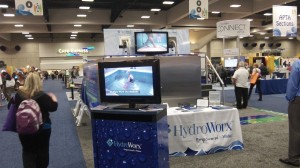 Lots of in-pool demos, booth activity and three days later, it is time to pack it all back up again!
However this time, this HydroWorx InstaFit Series pool was heading to Coronado, CA to the Navy Seals Base. This very pool will be used to rehab and train the Navy Seals!
After about 3 hours of draining the pool and cleaning up around the booth its time to wrap the pool to get it ready for its trip to Coronado (about 15 minutes away!). The unit was wrapped from all sides and then torched in order for the material to shrink to the pool and keep it sealed extremely tight (no pun intended)!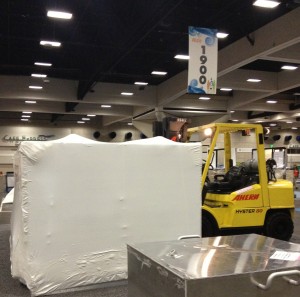 And there you have it. Now this HydroWorx pool is sitting on the Navy Seals base after traveling from Middletown, PA! If you stopped by our booth at APTA-CSM, thank you, we appreciated speaking with you. For those of you who were unable to attend the event, click here, to learn more about HydroWorx!