The Importance of Aquatics at MCB Camp Pendleton
The following post has been adapted and summarized from the recent article, "Take the Plunge: Camp Pendleton Pools Provide Ideal Setting for Fitness, Healing" in the March Issue of Government Recreation and Fitness Magazine.
MCB Camp Pendleton is a Marine Corps Base located in California filled with men and women dedicated to serving our country. The base has a Hope and Care Center, which is home to aquatic therapy pools for the Marines, sailors and families to remain active or recover and heal from injuries. Because injuries can occur during active-duty, training, or even daily activities, having an effective rehabilitation & aquatic therapy program on site is essential for a smooth  recovery and fast return to service.
At MCB Camp Pendleton there is a 13 Area pool and 14 Area pool, and the Hope and Care Center which includes a covered outdoor pool and an indoor HydroWorx therapy pool with built-in treadmill, all of which are used by wounded warriors assigned to Wounded Warrior Battalion- West.
"Any time, whether you are in the military or a civilian, that you have a catastrophic injury and your life has to change, it is very hard to get out of bed and get motivated to do something. With facilities like this and the staff that we do have here, we help to motivate these wounded warriors and get them out of their rooms and back outside and active again. We are here to let them know that their life isn't over… So getting them back involved in activities and society is very important for us here on base."- Lisa Williams, supervisory recreation specialist and aquatics manager for the Hope and Care Center
The eight lane, 50 meter, 14 Area pool is used primarily for lap swimming, unit training and instructional-based activities. The 13 Area pool is used for recreation and fitness and is where the bulk of the learn-to-swim program is done. Due to the sizes of these pools, the base was able to host the "Warrior Games swim trials' in February and the Games will take place in May. Additionally, for some more fun, the one pool is equipped with diving boards, slides and water basketball, for some friendly competition!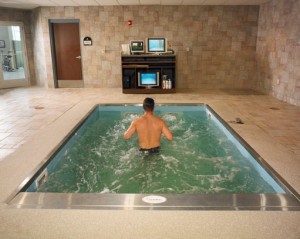 The Hope and Care Center opened in November 2011 and is used by Marines and sailors from the Wounded Warrior Battalion- West. The Center has the 25-meter outdoor pool, that is used for water fitness, and the "indoor HydroWorx therapy pool, used for small group and one-one-one therapy, fitness and conditioning." Williams explains that the underwater treadmill is the key piece that the programs are designed around. The underwater treadmill is used for guided rehab activities. The HydroWorx 2000 Series pool has a fully adjustable floor, so if a person may need, they can walk or wheel right on, and then use the railing to stand and balance.
Request a Free Info Kit     View Our Products     Find a Pool Near You
"Then we lower them down in to the water, and we can take it to 6 feet or as shallow as 1 foot, based on height and what they need to do. We do anywhere from walking on the treadmill in the water to running, and we have the jets that we can turn on the create more resistance in the water, which they can walk and run against."- Lisa Williams
In fact, this pool has become quite popular among the Marines and is a significant tool to remain in shape as well as to get healthy again. The pools and aquatic programs at MCB Camp Pendleton are quite unique, but extremely effective. One in particular is the Warrior Athlete program, which is utilized throughout the Hope and Care Center, in and out of the water. This program uses therapeutic recreational principles to help the Marines transition back to their unit or civilian life. Williams uses many activities such as swimming, surfing, kayaking, basketball or volleyball to get them involved, interacting and active again.
The main goal for Williams is to have the Marines happy, healthy and back to doing what they love, and with the variety of resources and tools on base, this goal can be surpassed.
Hear about one warrior's story of how aquatic therapy at Alton Physical Therapy in Alton, Illinois helped him heal and regain his strength.
Page updated on: July 9, 2020