The Ice Cream Truck Arrives at HydroWorx!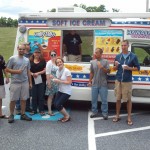 We all know that it's hard to work indoors on a beautiful summer day.
This afternoon, we had an exiting break from our normal work day when the Chilly Dilly ice cream truck stopped at our office.
Some ice cream and a few minutes in the sunshine were almost as good as taking a dip in one of our therapy & fitness pools!