The HydroWorx Summer of Adventures
This summer has been one filled with many adventures and travels, some work and some fun for all us at HydroWorx. We've covered a lot of ground across the globe these past few months.  Although, in the midst of some fun and interesting travel, we have been able to do some local outings and have a bit of office fun too!
Las Vegas, NV– NATA 2013. A group of employees (some not pictured below) started the journey in June in Las Vegas for the annual NATA convention!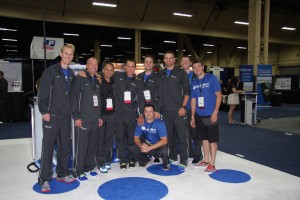 Harrisburg, PA– The Harrisburg Senators Game. A group of us at the home office had a chance to head over to City Island and watch our local AA baseball team, the Harrisburg Senators, only to get interrupted by a very aggressive downpour. But that's what makes it memorable, right?
New York, NY– FOX & Friends. Others had the joy of participating in the Sunday Fox and Friends segment that was held at the Plaza in New York City. The dedicated group of 5 was up and driving through the streets of New York City at 3AM to deliver and set-up some underwater treadmills for the 6:50AM LIVE segment!
Dubai, India; London, UK; Jacksonville, FL– Getting it done. We had 3 more road warriors that traveled across the Pacific, working on an install in Dubai! Another who had a small event at St. George's Park in the UK and another had a ten day trip to also work on an install down in Jacksonville, Florida!  Talk about seeing the world.
York, PA- Leg Up Farm. Our most recent visit was to Leg Up Farm where we were able to get a tour of the facilities, including installation of the HydroWorx 2000 series pool. Leg Up Farm is "is a non-profit therapy center in York County, Pennsylvania, for children with disabilities and developmental delays. We believe every child is special and deserves the opportunity to reach their full potential. To achieve this goal, we know that therapy takes a lot of time and hard work. Our individually tailored treatment plans, breadth of services, and child-friendly environment in a convenient, centralized location are the keys to success that will improve outcomes for children and families." Learn more on their website! 
And to think that is just a small snapshot of where some of the HydroWorx employees have been, traveled to and visited this summer! We look forward to seeing what the rest of this summer has in store for us!
Where in the world is HydroWorx today?