Teams that Play together, Stay Together
"If you can dodge a wrench, you can dodge a ball!" Thankfully there were no wrenches involved in our recent Dodgeball company outing at the new Skyzone facility in Mechanicsburg, PA.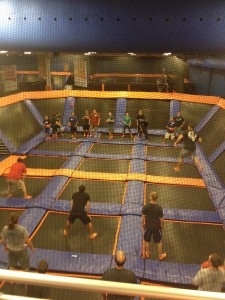 Our entire office went to the trampoline filled complex for some friendly, intense competition. The dodgeball series challenged teams to the best of seven games. The match-ups consisted of HydroWorx's Sales, Marketing, Administration and Finance (Team SMAF) against Service, Project Management and Manufacturing (Team Ops). After two completed series, Team Ops came out on top, but definitely not without a fight from Team SMAF. Those of you who have done this before understand that it is not an easy task to dodge, throw or catch a ball, all while jumping on trampolines. Our teams got the hang of it by the end, but I think we all could have used a PlungePool for recovery in between sets! Let's just say that we might be a bit sore for a few days.
Will there be a re-match of Team SMAF vs. Team Ops? We will have to wait and see!