Summer of Success for Local Masters Athlete
It's always great to hear about successful sports stories, especially when it's about a local athlete. This summer has been nothing short of extraordinary for local master's runner, Nick Berra. Recently Penn Live posted an online article about Berra, on August 19, 2013 titled, "It has been a summer of running success for Enola's Nick Berra." 
On August 9th of this summer, Berra won the first-ever USA Track and Field (USATF) Masters One-Mile Road championship in Pittsburgh. He won that race in 4:28!
Since I am most competitive on the track at the middle distances, such as the 800 meter, 1500 meter and mile, I was excited that they decided to add the mile, which is becoming a very popular distance for road racing. I knew, based on my success on the track and in other recent road miles, that I would be very competitive. It was great getting the win because national titles like this one get harder and harder the older you get."
In addition to this race in August, Berra competed in the USATF Outdoor Nationals in June, winning the 800-meter race in a time he hasn't seen in over three years. He crossed the finish line in a time of 1:56:27! Then in July,
Berra raced in the annual Harrisburg Mile, finishing second overall and as the first masters runner with a time of 4:24! "I've had a lot of success there in the past, and currently hold the masters record with a 4:22. This year I was hoping to run a good race, and I think my second-place finish was as high as I have ever been against the open guys. I know that I could still compete against them, so I don't want to say I was surprised by my finish but I have been fifth or sixth so many times that it was nice to hold off a couple of guys and grab second this year."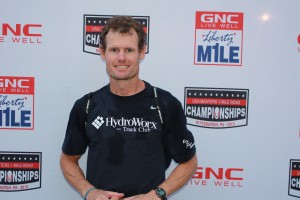 From a recent guest blog article by Berra himself, you may have read that he is an avid user and believer in aquatic therapy for training
and recovery! Berra trains using a HydroWorx underwater treadmill at Elite Athletic Performance & Cumberland Aquatic Center,  for about half of his mileage and he 'credits much of his underwater training for much of his success.'
"Running underwater has allowed me to increase my mileage, while greatly reducing the risk of injury. I have been doing a large portion of my running in the pool for almost four years now," said Berra, who has suffered from hamstring injuries on and off since college.
Well with such a successful summer, wouldn't you want to stop while you are ahead? Not for Berra, as he will be running in the 2013 Fifth Avenue Mile in New York City in late September. He ran away with the title in 2010 and is looking to reclaim this year.
Penn Live's Kelly Leighton asked Berra about his motivation. Initially he would like to say 'its to stay in shape and healthy, but at the end of the day he enjoys racing and competing. "Winning never hurts either!" he added.
Using aquatic therapy provides numerous benefits for all types of athletes, not only runners! Learn more about sports aquatic therapy here>>