Submissions for the 2014 Excellence in Aquatics Award are Now Open!
Submissions now open!
 We are now accepting exceptional case studies for the 2014 Excellence in Aquatics Award through April 30, 2014. This award will recognize sports medicine professionals who, despite all odds, garnered superior rehabilitation results through innovative, and sometimes unconventional, methods. The winner will be announced at NATA this year in Indianapolis, IN.
As you may remember, we held the inaugural Excellence in Aquatics Award (SMED) in 2013.  The four 2013 Excellence in Aquatics Award nominees were nothing short of exceptional stories of dedication and perseverance, both from the athletic training staff and the athlete themselves. Here were the 2013 nominees: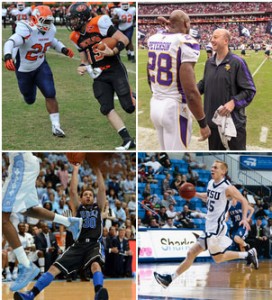 Carson-Newman College Football for Facilitating the Rapid Return from a Fractured Fibula. Carson-Newman College's starting middle linebacker Jarell Emanuel, sustained a fractured fibula, when he was hit on the lateral aspect of his lower leg during practice, just days before their season opener. The rehabilitation plan began two days after the injury with Jarell walking chest deep in their HydroWorx 1200 Series pool. After just two weeks of rehab in the pool, Emanuel was cleared for non-contact practice and was finally cleared for contact on September 17th — just one month after sustaining a fibula fracture in practice!
The Duke Basketball Sports Medicine Team for Managing Potential Season-Ending Injuries to Key Players. The 2012-2013 Duke basketball team was hit with injuries to two key players at critical times during the season.  Ryan Kelly, senior forward, missed 13 games due to a right foot injury while senior guard, Seth Curry, suffered from a right shin injury. Despite these setbacks, the sports medicine team consisting of Jose Fonseca and Nick Potter, were determined to not allow these injuries define their team's season! Kelly returned earlier than expected for a critical match-up against Miami.  In his first game back, Kelly scored 36 points (career high) for the team on just 14 shot attempts, securing the victory for the Blue Devils. Curry scored a team high 17.3 points per game during that season and was named a second team All-American by the Sporting News!

Eric Sugarman and the Minnesota Vikings Athletic Training Staff for the Rehabilitation of Adrian Peterson. On December 24th, 2011 Adrian Peterson, while being tackled, incorrectly planted his leg during a run and tore the ACL in his left knee.  Following surgery, Peterson and Viking's Head Athletic Trainer, Eric Sugarman, began the rehabilitation process with Peterson's goal of starting in the 2012 Season Opener.  Just three weeks after surgery, Peterson was walking on the underwater treadmill at the Viking's facility.  Peterson went on to have the best season of his career, finishing with 2,097 rushing yards and being named the NFL's 2012-2013 MVP.
Nova Southeastern University's Dustin Gatens MS, ATC for the Rehabilitation of Basketball Player Brian Cahill.
NOVA Southeastern's basketball guard, Brian Cahill, has had a long and hard road to be where he is today. Cahill has suffered from serious back and spinal injuries since his senior year in high school, undergoing two serious back and spinal surgeries. After undergoing two surgeries, red-shirting one season, taking another year completely off of school and rehabbing in the pool every day, Cahill was finally able to play in every single game of this past 2012-2013 basketball season!
The winner of the 2013 Excellence in Aquatics award, Eric Sugarman and the Minnesota Vikings Athletic Training Staff, were announced at the 2013 National Athletic Trainers Association meeting in Las Vegas last year! We look forward to another great group of nominees.
NOW ACCEPTING NOMINATIONS FOR 2014!
SUBMIT YOUR EXCEPTIONAL CASE STUDY

To participate, visit our submissions page  for all of the details about submitting case studies and to download the submission form!