Studies Show Aquatic Therapy Benefits Post-Menopausal & Osteoarthritis Patients
The following blog post has been summarized from the recent article, "Aquatic Therapy Could Have Lasting Positive Effects Among Postmenopausal Women" by researchers from the Faculty of Sport and Health Sciences at the University of Jyvaskyla, Finland on PT Products.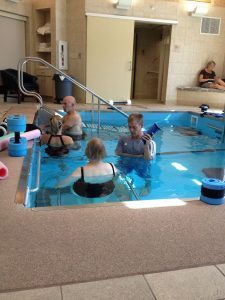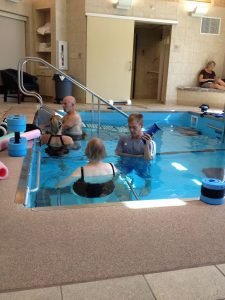 Menopause can cause many changes in women's bodies at a certain age. Symptoms such as muscle and joint pain, aches and pains, and hot flashes are due to a lack of estrogen and progesterone in the body. According to a Health Line study, about 75 percent of women experience hot flashes during menopause, making it the most common symptom experienced. Some women also experience muscle and joint pain and osteoarthritis during this time which can affect the amount of calcium in the bones. Menopause can cause significant decreases in bone density, leading to a condition known as osteoarthritis. It can also make women more susceptible to hip, spine and other bone fractures.
In a recent study by the University of Jyvaskyla, Science Daily, 87 post-menopausal women with knee pain and osteoarthritis-related changes were randomly assigned to a group – either a training group or control group. The training group participants completed 1-hour of high intensity aquatic lower resistance exercises three times a week for months. The control group focused on maintaining their everyday care and continued their day-to-day leisure activities.
The results of the study showed that women with knee osteoarthritis should consider participating in the training group aquatic exercises to slow or even end the progression of the disease. In addition, the researchers from the Faculty of Sport and Health Sciences at the University of Jyvaskyla, Finland, showed in their examination that body mass decreases and walking speed increases with aquatic resistance training. It also showed that preventing the worsening of the symptoms can slow-down or even stop the loss of cartilage.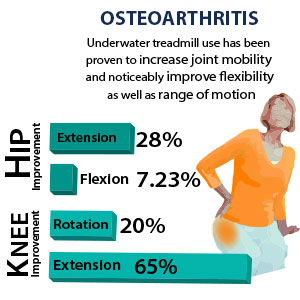 Osteoarthritis is not just a problem in menopausal women though. Without treatment options, individuals suffering from osteoarthritis can experience additional health problems such as the development of obesity due to inactivity, an inability to move without pain, a loss of freedom, an increase in depression and much more. For a person who has osteoarthritis, just getting out of the house can be a chore and difficult to do alone. If the person is living by him or herself, this can create a feeling of isolation and reluctance to do enjoyable activities. Many people who deal with chronic pain are overcome by emotions of intense loss, too.
Osteoarthritis is a painful condition to live with. Not only does it hinder daily activities, but the pain is often unbearable. Therefore, physical therapists are constantly seeking new ways to help their clients feel better including using treatment remedies such as aquatic therapy. For clinicians and individuals managing physical therapy clinics or hospitals, one tactic involves investigating the warm water therapy options available on the market today. In order to offer the best aquatic therapy possible, clinicians may consider investing in an advanced therapy pool that includes technology such as:
A variable-depth floor with embedded treadmill.
Resistance jets for balance training and variable intensities.
A massage hose for hot water massage opportunities.
Underwater video monitoring to correct gait mechanics and posture in real-time.
Removable handrails for support where needed.
Natural osteoarthritis and menopausal treatment is becoming a rising trend and it's important for physical therapists to ensure their clinic is equipped to meet this up-and-coming need.
Download the chronic pain, arthritis and joint replacement tipsheet here.>>