Stock Up for a Bonanza With the Orange and Cotton Bowls!
The end of the year is going out with a bang, indeed, thanks to National Championship football!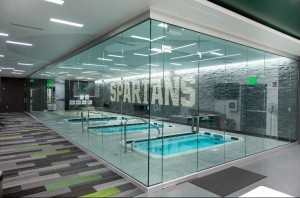 Without a doubt, the Orange Bowl and the Cotton Bowl are on every college football lover's mind.  Snacks are being purchased, plans for TV time domination made and friendly wagers set.  This year's competitors are ready for action, and three of the four teams set to play in these decisive games have HydroWorx on their side.
The Orange Bowl, featuring the number one seed, Clemson University, versus the number four seed, Oklahoma University, will take place on Thursday December 31 at 4pm EST. Both teams feature HydroWorx therapy pools in their athletic facilities on campus. With access to this kind of advanced equipment, players are able to soothe any soreness leading up to the game as well as be well prepared with a proven method of getting injured athletes ready for play.
Not to be outdone by Clemson and Oklahoma, No. 3 Michigan State University offers its Spartans a HydroWorx therapy pool as well.  Michigan State has risen to the number three spot in the country, and we can't wait to see what they do against their competition, No. 2 University of Alabama. The Cotton Bowl will take place December 31 at 8pm EST.
Will all their conditioning with advanced equipment and protocols pay off big time?  By the time we ring in the New Year on the east coast, we should know!
The winners of the Orange and Cotton Bowls will go on to play in the January 11 ESPN-televised National Championship.  Best of luck to all the teams tomorrow!
Tell us who you are rooting for in the comment section below!