St. George's Park, a Facility for All
The following post is from The Independent titled, 'Stay on the ball', written by Will Dean last month.  
The FA's new national football center at St. George's Park certainly is receiving a ton a press since its grand opening in October. From a visit from the Prince to professional athletes and now to a small undiscovered team, this facility is sure to see it all!
Last month, the facility that is home to some of the planet's finest and most finely remunerated athletes received a visit from DisOrient FC, a team many have not heard of. 'That's not to say that DisOrient's players don't have much in common with many of the league's top players. All of  the 10-man squad are in there twenties or thirties and enjoy playing football. But that is where the similarities end!"
DisOrient are a one-year-old, 5-a-side team that is in desperate need of some help and training in order to move up in their league. At the time of the article (Mid-November) they had only won two games out of then ten played. "We need all the underwater treadmills we can get!"
St. George's Park is a very unique yet luxurious facility. One half of the center is home to the FA's National Football Center and the other half is a hotel/conference complex which holds a 142 bed Hilton and a smaller Hampton by Hilton. With the high caliber athletes that use this facility, St. George's Park is open to the public.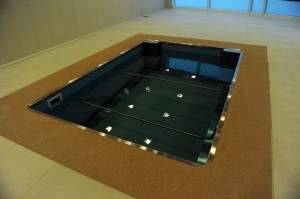 DisOrient, a team in need of some motivation and assistance, took part in the 'St. George's Experience', "a package which allows 12 players to take a tour of the facility and then play for two hours with an FA-qualified coach." The team started by playing some football on turf then headed into the hydrotherapy room, the setting for the now-famous picture of the Duke and Duchess of Cambridge being shown around. Each of the players are highly encouraged, because of the benefits, to spend a minute or two in the warm jets and then a minute or two in the cold water for muscle recovery.
 We also try out a four-man underwater treadmill, which allows you to run without putting much weight on your joints. This is a vital part of the rehab process for injured athletes or members of the public, but for us it's just mainly for the fun of watching our legs wheel underwater on two flat screen monitors.
Following DisOrient's stay at St. George's Park, they went on to collect two wins in a row! They finished the season in eighth place, better than they had anticipated in the early stages of the season. Do we have the "St. George's Experience" to thank?
To read the full article written by Will Dean, click here!