Spring Training: ATs Discuss the Role of Hydrotherapy
Spring Training has been a baseball ritual for nearly 130 years, almost as old as baseball itself. It gives new players an opportunity to compete for a coveted spot on the team's roster and lets established players hone their skills before the season opener. For these athletes, Spring Training is all about performance.
A quick look around the league reveals how team athletic trainers (past and present) have incorporated HydroWorx products to enhance the Spring Training performance of Major League Baseball players.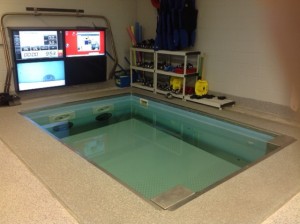 Herm Schneider
Schneider, legendary head athletic trainer for the Chicago White Sox, shared how his team utilizes aquatic therapy.
"We use our HydroWorx underwater treadmills about every day, especially in our Spring Training home.  For our older players, we're trying to reduce the impact on their lower bodies, back, knees and/or ankles. We get them in the pool for low-impact cardio training."
"For the younger guys," continued Schneider, who for many years boasted MLB's lowest injury rate, "the underwater treadmill becomes a bridge from rehab to land work. After injuries, we get the athletes running in water first before we take them back out to their land workouts.  It's a wonderful tool to have."
Patrick Serbus
"In my opinion," stated Patrick Serbus, Cincinnati Reds, "the best use for this modality is early return to function.  For guys who are in a non-weight bearing or partial weight-bearing restriction for extended periods of time, the underwater treadmill is extremely useful. We get guys moving by using a buoyancy suit, or by lowering the treadmill deck, unloading up to 90% of their body weight."
"Whether it's a significant ankle injury, stress fracture or knee surgery, we get guys in as soon as their sutures and portals are closed up; get them moving as quickly as possible. It makes a huge difference."
Ryan Bitzel
Ryan Bitzel, PT, Seattle Mariners, finds many uses for HydroWorx therapy pools—including shoulder injuries.
"The natural resistance that water provides has been very effective in getting athletes started on shoulder strengthening exercises at an earlier timeframe. During the early stages of rehab, we put them in the water and start with a couple of basic shoulder cuff strengthening exercises. Making figure eights and external rotation exercises in the water while standing promotes earlier strengthening through full range of motion for our athletes. Also, simply walking on the underwater treadmill helps the muscles to relax."
Ryan also uses the variable-speed resistance jets to treat shoulders. "I can give them a little bit of resistance by turning on the jets and controlling the amount of water flowing from the jets.  We start them off light, then progressively get a little bit stronger, and give them something to kind of 'push through.'"
Jimmy Southard
Jimmy Southard, CAT Los Angeles Dodgers explained how he treated an athlete who'd undergone micro-fracture surgery on his knee.
"We were able to get him moving on parts that were weight-bearing a lot earlier than we would have without the underwater treadmill," explained Southard.  "And it's the same with ankle injuries and hamstrings.  Because of water's buoyancy, our rehabbing athletes can still get a really solid cardiovascular workout without putting strain on the joint."
—-
We look forward to watching all of our baseball customers throughout the season. Until then, may they stay healthy and injury-free!