Pediatric Aquatic Therapy at SoPAC 2014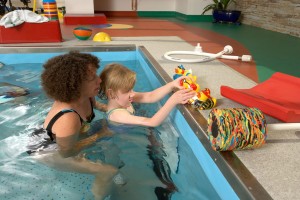 We are always inspired by children whose lives are impacted by water. We have seen and heard stories of so many kids that have made significant progress as a result of the use of aquatic therapy.  Even the founder of HydroWorx was inspired by his own story of healing in the pool at a young age.
That is why we proudly support the Section on Pediatrics at their Annual Conference (SoPAC). The Section on Pediatrics' mission is to promote the highest quality of life for all children, people with developmental disabilities, and their families. SoPAC 2014 takes place in St. Louis, MO from October 23-25, 2014. If you will be there, stop by HydroWorx Booth #116 for your chance to win a t-shirt and gift card!
One example of a young girl who benefitted from the use of aquatic therapy is Amber. Amber was diagnosed with fibromyalgia at a young age and has found that she is able be more mobile in the pool. A chronic disease such as fibromyalgia does not have a cure and requires constant management to relieve symptoms. For Amber, activities she enjoys are difficult to do because she easily becomes stiff and sore.
At Children's Hospital in St. Paul, MN, Amber began therapy in the pool, with physical therapist, Cindy Jarosch. At the beginning, Cindy focused simply on stretching and relaxation to get Amber used to the water and to gain a benchmark for future work.
Depending on Amber's energy level and pain tolerance at each session, Cindy was able to modify the depth of the pool accordingly to adapt to her needs. With the adjustable depth, she could make the pool deeper to relieve more of her body weight and make movements easier, or she could make the water more shallow to progress activities toward dry land.
Amber was eventually able run in the water and increase speed, which is something she could not do on land.
Watch Amber's story below:
To learn more about the ways that aquatic therapy can benefit pediatrics, click here>>