Severe Ankle Injury Case Study from St. George's Park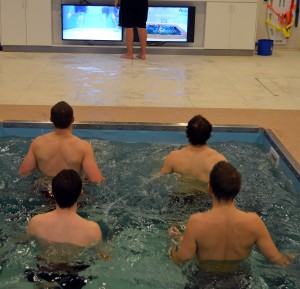 The 2014 World Cup was disappointing for the England Senior Men's Team for many reasons. For England fans, hopes of a medal began to fade quickly after falling to Italy and then Uruguay. The results were more upsetting for some than others, but it may have been most disappointing for physiotherapist, Gary Lewin. Lewin had his trip to the World Cup cut short after experiencing a fracture and ankle dislocation on the side of the pitch in the match against Italy. Lewin had his ankle immediately relocated on site, was taken to the hospital and then flown home to England for subsequent treatment.
Thanks to Lewin's job, he knew exactly where to start his physiotherapy once he was cleared to do so. He went straight to St. George's Park, which is the National Football Centre for all of England's national teams. It was here that Lewin began working on regaining function of the injured ankle. One of the modalities he used was the centre's HydroWorx 2000 Series pool for progressively reeducating and loading the ankle as well as maintaining fitness while he was not yet fully weight-bearing.
The pool offered him features that were essential to his treatment such as:
Moveable floor to adjust water depth for progression of load
Underwater treadmill for gait reeducation
Resistance jets for progression of intensity
He saw significant progress during his use of the pool and was able to return to his international duties less than 12 weeks post-injury.
Download the written case study overview here>>