Setting a Trend for Senior Living Facilities
The following post has been adapted and summarized from the recent news article, "Walking 'on' water: Rehab and recovery center sets trend with underwater treadmill," by Norma B. Dennis. This article was written in the Jamestown News on Tuesday, July 23.  
A new trend may be forming within the senior living community. Only time will tell, but the facility, featured in the article, decided to take the plunge and is now reaping the benefits.
Shannon Gray Rehabilitation and Recovery Center, located in Jamestown, NC is a proud owner of an aquatic therapy pool with a variable depth treadmill. Author Norma Dennis, shares a personal account of one patient, Evelyn Williamson, who utilized the underwater treadmill.
"Evelyn Williamson was somewhat apprehensive about getting in the water. It has been years since she has been in a pool and the thought of being lowered into water up to her chest was a little scary." 

However Williamson's fears were quickly eliminated as she was slowly submerged into the warm water while standing on the pool floor which underwater treadmill.  "But they let you down slowly as you stand on a (platform) and that reassures you," Williamson said. "The warm water envelops you and it is so nice. I had to hold onto the rails. But it was easier to walk in the water. It felt good to move." Williamson has only been on the underwater treadmill twice, but has noticed a difference on her joints compared to when she has exercised on land.
Water therapy has been around for a while and is fairly common in rehabilitation centers and senior living communities. However, Shannon Gray is one of the first facilities in North Carolina to have an aquatic therapy pool with an underwater treadmill.
"The architect of the building suggested it and told us about the HydroWorx company," said Dick Bennett, whose family owns Shannon Gray and The GrayBrier Nursing and Retirement Center in the Archdale-Trinity area. "Colleges and universities including, N.C. State, Duke and Wake Forest, have installed them for their athletes. We had to decide if we were going to accept the challenge to do it when other rehab facilities said they were not."
The goal at Shannon Gray Rehabilitation and Recovery Center is to help residents recover and improve their quality of life so they can return to their homes.  And with the many features and amenities that Shannon Gray has, they certainly are making that happen.
The HydroWorx pool located within their facility features underwater cameras which allow patients to see themselves and improve their movements. Additionally, as they rehab and exercise, a DVD is created and sent to the surgeon to see how their patients are improving! The pool with its underwater treadmill is part of a 1,700-square-foot therapy center, which takes the place of a courtyard in the middle of the building.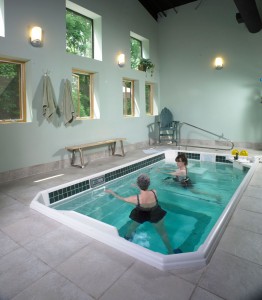 However, the pool is not the only popular item at Shannon Gray. In fact the facility holds a full-size car for patients to practice entering and exiting the vehicle! Additionally, Shannon Gray features a large mural depicting a stroll down Main Street, USA, which is especially meaningful to the owners, as it encompasses their family history including current and past dogs!
This mural filled with personal touches truly sets a tone for recovery and peace to the constant activity of residents and outpatients going through various routines to regain lost movement.
In the three and a half years the rehab facility has been in operation, they have never heard a negative reaction to it.
The success they are having could help to solidify this trend in Senior Living rehabilitation
Learn more about why warm water therapy is so beneficial for an aging population.
Using aquatics helps residents become more active, healthy and independent; thus increasing their lengths of stay within assisted and independent types of living.  Additionally, warm water therapy offers an effective way to combat falls and provides a valuable benefit to a facility's bottom line. Download this tip sheet, to learn the impact of how water worx for your facility, including:
Therapy services
Falls Reduction
Wellness Programs
Learn why warm water therapy is essential for aging patients' health and your facility's success.