Season Cut Short by ACL Injury: Why Water Rehab Worx
ACL injury is the most common major knee injury that occurs in football. Typically, the injury is non-contact and caused by cutting; the athlete is running, plants the foot to change direction and the knee buckles. These injuries generally require surgery to allow the athlete to return to sport.
This is what occurred to the DT for the North Dakota State Bison's in week nine of last season against Youngstown State. The defensive tackle's season came to an end: not by choice but by circumstance.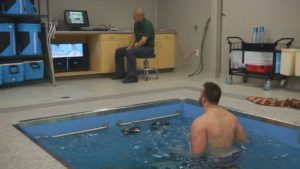 Despite the setback, the defensive tackle stayed optimistic. He began focusing on the upcoming season by focusing on a new goal: to get healthy by rehabbing with equipment such as an underwater treadmill to lessen the impact on his fragile knee. It has been three months since the injury and is now running again, above ground, and every day he works to rebuild the strength that he once had.
Some athletes choose not to have surgery and continue their own rehabilitation and strengthening program, which can include aquatic therapy. It provides an advantage to keep the knee as strong and mobile as possible while decreasing the swelling which occurs in the first 12 hours following injury. Treatments begin with an emphasis on normal function which include increased flexion and extension of the knee, normalized gait pattern and confidence transferring weight to the affected lower extremity on land.
Why Water Rehab Worx to Accelerate Healing
Aquatic therapy can considerably cut athletes expected restoration times. In a sports setting, getting an athlete back "in the game" as fast as possible is extremely important. For professional athletic teams, getting star players on the field sooner rather than later can make a huge difference for team morale and reputation as well as the franchise's finances. This makes aquatic therapy a practical, safe solution for strength and conditioning coaches, athletic trainers and coaches.
Just as every athlete is unique, so is their recovery. However, time and again, the HydroWorx pool has been used by athletic trainers in sports settings to speed up healing. By taking into consideration the type of injury the athlete has had, the athletic trainer can create a personalized water rehab workout that can begin days — or even weeks — before dry land therapy begins. Not only does offering athletes a warm water therapy pool make sense from an athletic trainer's perspective, but it benefits the organization.
Exercises for ACL Recovery
According to the American Academy of Orthopedic Surgeons, there are more than 200,000 cases of ACL injuries each year and approximately 100,000 of these knees reconstructed annually. Each of these athletes will require some form of rehabilitation to ensure the repair of the tendons and ligaments is functioning properly and the athlete can return to a normal gait and balance. Below are some exercises that have been beneficial for athletes who have undergone aquatic rehabilitation of an ACL injury:
Gentle squats while holding onto the edge of the pool eventually moving into lunges.
Straight-leg extension exercises while patient is holding onto either the edge of the pool or steady guardrails.
Using water fins, athletes can alternate from side to side and practice abduction and adduction. This strengthens the muscles around the knee. Resistance jets can offer an additional challenge to this exercise.
Walking underwater or on an underwater treadmill to regain motion.
Download our ACL tip sheet to see the impact aquatic therapy can have on recovery, including:
How the natural properties of water affect a recovering athlete physically and mentally.
How water enhances productivity after an injury.
The difference the use of tools like underwater treadmills and resistance therapy jets safely enhance rehabilitation and conditioning.
A sample timeline of an ACL recovery after surgery utilizing HydroWorx therapy