Save 35% on a HydroWorx in 2016
It's not often that people are excited about anything associated with taxes, but Tax Code 179 is an exception to that rule for businesses. Simply put, Tax Code 179 offers a special deduction to qualifying businesses that make large equipment purchases each year. The nuances and guidelines regarding Tax Code 179 change annually, and in 2016 it's offering a couple of huge advantages that are perfectly suited to anyone interested in any HydroWorx warm water therapy unit.
Contact us to learn how Tax Code 179 can work for your business>>
The tax break is applicable to up to half a million dollars in new equipment. The equipment must be purchased and in use no later than December 31, 2016 to get the qualifying break, as well as an additional 50% bonus depreciation deduction. For example, for businesses that buy a HydroWorx 300 Series, this can add up to approximately $31,000 in tax savings (assuming a 35% tax bracket). See the example below: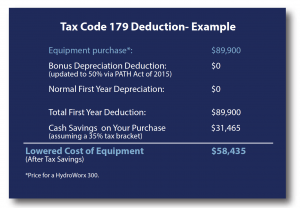 What's in the fine print? While there's nothing that's particularly hidden in Tax Code 179, you'll want to remember these facts:
In order to get your HydroWorx 300 Series by the end of the year, orders must be placed absolutely no later than August 28, 2016.
The spending cap on equipment purchases is $2 million, and the deduction limit is $500,000.
If you buy your HydroWorx 300 Series with 0% financing (learn more about financing here>>), you could start paying off your investment much faster because of the Tax Code 179 breaks.
Interested in learning more about this exciting opportunity that's specifically made for small and mid-sized businesses, like private physical therapy clinics? Contact HydroWorx today at 800-753-9633 to talk to someone about trying a HydroWorx Series 300 and seeing how this modality can help you build your business.
Consult your tax advisor to understand if you're eligible for the tax break. Also see www.section179.org and www.irs.gov.
Learn more about HydroWorx and Tax Code 179>>