Right Staff and Right Technology Provide Healing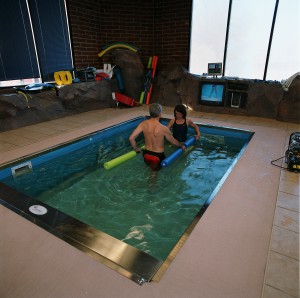 The following blog post has been summarized from the recent article,  Making It Work, Technology in Practice, published in Impact Magazine and written by Jan Black, PT, MS and Dale Hull, MD, MPA. Jan Black and Dr. Dale Hull co-founded Neuroworx in June 2004 and now serve as the clinic director and executive director.
Neuroworx is a unique facility in Utah with a mission to promote the rehabilitation of spinal cord injuries and other neurological conditions and to create and support the finest comprehensive outpatient neurological rehabilitation facility. Dr. Dale Hull suffered a tragic spinal cord injury resulting in paralysis from the neck down. This incident caused him to devote three-and-a-half years toward his recovery with Jan Black, his physical therapist. During this time, the two developed the plan to open a facility that serves the needs of spinal cord injury patients. In 2004, they co-founded the non-profit practice, Neuroworx.
As a relatively small, non-profit, niche facility, one must wonder how they are able to offer this level of neurological rehabilitation and care. Both Jan Black and Dr. Hull say it is the effective combination of having passionate people and having the 'right stuff.'
Having the right people in place can make a huge difference in the outcome of a patient's rehabilitation. At Neuroworx, they strive to find 'craftsmen', those who are capable of being evidence-based as well as innovative. Since no two injuries are the same, clinicians are encouraged to create and construct unique programs, including any specific technology necessary, for each individual patient in order to generate the best outcome for them.
A world-class clinician combined with the proper tools and equipment is a powerful combination for rehabilitation success. At Neuroworx, they rely on many different tools and equipment, but four of their most used and effective forms of technology include:
Aquatic Therapy Pool with an Underwater Treadmill. The HydroWorx therapy pool provides substantial therapy potential with an adjustable underwater treadmill, front and side camera-monitor system and adjustable resistance jets. All patients are able to benefit from the properties of warm water including buoyancy and resistance.
Body Weight Support System. They have implemented a locomotor training system with computer-assisted feedback that can control vertical displacement and center of mass. This helps patients to achieve proper stepping and stride kinematics.
Robotic Locomotion Therapy. At Neuroworx, they utilize a system that allows one physical therapist to administer intense functional locomotion therapy. The integrated visual feedback system with the locomotion therapy enhances patient motivation as well.
Function Electrical Stimulation. They have a variety of electrical stimulants to create patterned movements in the legs, arms and trunk.
Are you interested in learning more about the benefits of aquatic therapy for your patient? Download the "5 Ways Aquatic Therapy Impacts Rehabilitation" Tip Sheet today>>