Research Shows Underwater Treadmill Outperforms Land-Based Treadmill
Athletes, weekend warriors and active adults may feel like a water workout is "too easy." Often clinicians will question if their athletes or patients will be able to reach sufficient metabolic results on an underwater treadmill compared to a land-based treadmill that has the ability to incline, which raises the heart rate.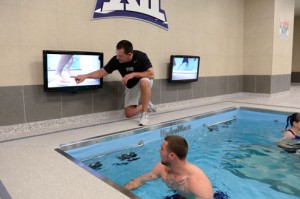 However, a new study from Utah State University, "Metabolic Cost Comparison of Running on an Aquatic Treadmill with Water Jets and Land Treadmill with Incline," has shown that when athletes run on a HydroWorx underwater treadmill with high-powered resistance jets, the jets can be used to simulate and actually outperform land treadmill incline physical responses.
The study consisted of 18 participants who underwent trials on land-based and HydroWorx underwater treadmills. Participants' metabolic cost (VO2 max) and heart rate increased in a predictable, linear fashion when the speed and incline increased on the land treadmill. However, when the same methods were applied to the aquatic treadmill by increasing the power of the resistance jets, individuals' metabolic cost and heart rate jumped by unexpected, cubic amounts. When the resistance jets were at 100 percent capacity, participants showed physical effects that exceeded those that they displayed when running on a land treadmill at a 10 percent incline.
Utah State University's Dr. Dennis Dolny, PhD and Department Head of HPER, one of the research study authors, states,
"A common concern practitioners may express regarding water versus land treadmills is that there isn't an incline to simulate running uphill. With the resistance provided by the HydroWorx water jets, at any given speed, one can simulate the metabolic requirement of running up a one percent incline to in excess of a 10 percent incline. This added resistance would meet the training requirements of virtually all athletes seeking optimal training conditions, such as high intensity coupled with reduced joint stress."
These results are very exciting as athletes and active adults are able to endure a more intense workout in the water, a safe environment, while decreasing their chances of re-injury and joint stress.
Download our Research Studies Book for a comprehensive overview of studies that have been done on underwater treadmills.