Research Proves Underwater Running Reduces Muscle Soreness
Recovery is essential for all active individuals regardless of their level of activity. However, for competitive athletes specifically, recovery and reduced muscle soreness can be the difference in a win or a loss. For high-performing individuals, having an effective method for decreasing muscle soreness, decreasing time in between hard training sessions and decreasing recovery time frames is essential.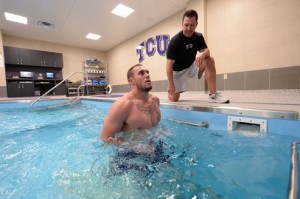 The Department of Health and Kinesiology at Texas A & M University recently published the research study, Aquatic Treadmill Running Reduces Muscle Soreness Following Intense Sprint Exercise in Trained Men. The study, published in the International Journal of Exercise Science, was created to determine if short duration aquatic treadmill running reduces muscle soreness following intense sprint exercise in male athletes.
The study consisted of twenty trained men randomly divided in two groups; an aquatic underwater treadmill recovery group and a passive recovery group. After a 10 minute dynamic warm-up, the 20 participants performed sixteen 110 yard cutback runs with a sprint of 60 yards, change of direction and then a return sprint of 50 yards. After completing the 16 sprints, the aquatic treadmill recovery group performed underwater treadmill running on the HydroWorx underwater treadmill at 5mph for 10 minutes. The passive recovery group did not perform any type of recovery activity.
Following the recovery time period, each individual ranked their perceived soreness levels on a scale of 1-10. In each area evaluated, the individuals who performed the aquatic treadmill recovery following the sprint workout experienced significantly less pain and soreness. The athletes ranked their level of soreness in their legs, back, hips and abdomen. The overall soreness scores following sprint exercise were lower by a total of 1.9.
The conclusion from the study suggests that aquatic treadmill running significantly reduces perceived muscle soreness and may enhance recovery following intense sprint exercise in trained men.
The exciting news is that not only does underwater treadmill running reduce muscle soreness post-workout, it has been shown to make a difference in an individual's performance.
Download our Research Studies Book for a comprehensive overview of studies that have been done on underwater treadmills.