Rehab for T4 Vertebral Damage in a HydroWorx
HydroWorx pools can be used and are used every day for a number of different  reasons. The underwater treadmills can be used for training, physcial therapy, exercise, strengthening and more. In this particular case study, the HydroWorx pool is being used as a physical therapy and rehabilitation tool for a young 21 year old male, Brock, who suffered from a T4 compaction fracture in a dirt biking accident.
This case is taken from our HydroWorx video titled, T4 Vertebral Damage and Paralysis Rehab. At the time of the incident, Brock had very limited mobility in his legs and could not move his left knee. Shortly after the accident occurred, Brock came to Neuroworx, in South Jordan, Utah where he began his rehab in the HydroWorx pool. He started off having two therapists, one on each side, to help stabilize him while he tried to walk. Since that time, he has progressed to walking for 10-15 minutes at a time, independently in the water.
The video demonstrates an aquatic therapy session that Brock would undergo each time he went to Neuroworx. It begins with the use of a hydraulic chair lift, to carefully lower Brock into the water. The water temperature is around 90 degrees to help relax the muscles as well as reduce spasticity. The session begins with Brock marching in place to loosen up his muscles. Once the muscles are warmed, he begins to walk at 0.6mph to allow for a gradual increase throughout the session.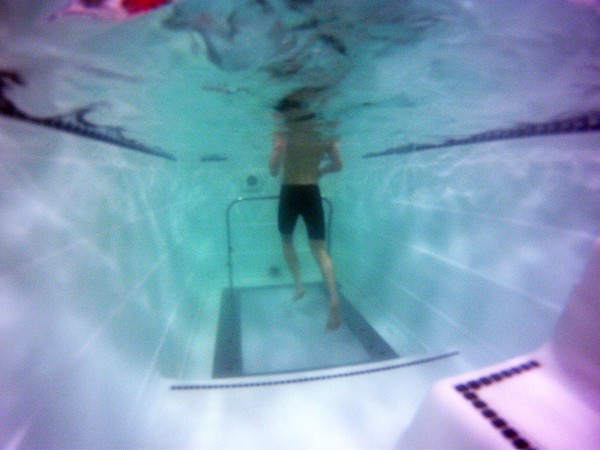 The underwater camera is a very useful tool, especially in cases such as Brock's. A number of patients cannot feel their legs moving in the water and they will tend to look down at their feet, creating poor posture. With the use of the video screen patients, such as Brock, are able to watch themselves walk and adjust their form if necessary.
After another slight increase, the therapist can gauge the patients comfort level in the water and create some small challenges such as a change in direction (side stepping) which challenges the hip abductor muscles.
In addition to underwater walking, the water can be used to help with balance. In this video, Brock is asked to stand straight up without using the bars and to bend his knees slightly, as if he were doing a 'mini squat'.
The session concludes with a few more minutes of walking, increasing the speed to 1.0mph and then 1.2mph. The overall goal for Brock and all patients is to have them progress back to walking strong on land. Brock has made a great amount of progress with his walking due to the use of the HydroWorx pool. Be sure to watch this aquatic therapy session on our YouTube channel.