Reducing Overuse Injuries in Athletes of All Ages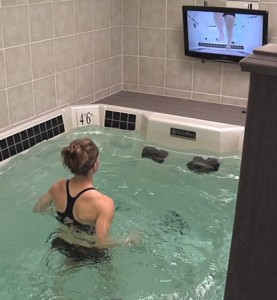 Overuse injuries occur in athletes of all ages and across multiple sports. From youth to professional to Olympians, the problem of overuse injuries continues to plague athletes who try to get the most out of their training.
According to the American Orthopedic Society for Sports Medicine (AOSSM), overuse injuries are the result of repetitive micro-trauma to the tendons, bones and joints. These can occur when the body is not given enough time or ability to recover between training sessions or when technique is not correct.
The elite performance specialists at Michael Johnson Performance (MJP) in McKinney, TX have found that using aquatic therapy can help to reduce some of these injuries. Aquatic therapy can be used as an active recovery technique, a supplement to land training and a conditioning tool for those that are injured.
We recently spoke with a few performance specialists at MJP who work with varying groups of athletes about how they use hydrotherapy to reduce overtraining injuries and also how they can get more out of their training by using water.
Watch the video below to hear from Lucas Odergard, Youth Coordinator, Lindsey Anderson, Performance Specialist and Lance Walker, Global Performance Director:
View the webinar, "Use of Aquatics for Recovery and Regeneration" presented by Lance Walker on demand here>>