Redefine Age with HydroWorx at LeadingAge
Redefine What is Possible with Water Therapy & Wellness.
If you are attending the LeadingAge annual meeting and trade show at the end of the month, we want to invite you to join us in 'Redefining Age' in the HydroWorx booth. The theme for LeadingAge this year has been 'Redefining Age' and with water therapy and wellness, you can do just that.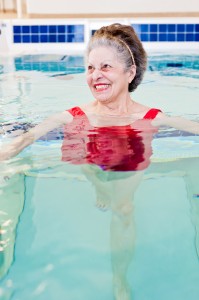 LeadingAge is an association of 6,000 not-for-profit organizations dedicated to making America a better place to grow old. The mission of LeadingAge is to expand the world of possibilities for aging. Their membership includes 6,000 not-for-profit organizations representing the entire field of aging services, 39 state partners, and hundreds of businesses, consumer groups, foundations and research partners. Their members touch 4 million lives every day.
Be sure to visit HydroWorx during the LeadingAge trade show in Booth #1436 to learn how water therapy and wellness can impact your senior living community with positive results.
HydroWorx will be 'Redefining Age' in booth #1436 with the following activities:
Could you, let alone your residents, run a marathon? Even if you can't run 26.2 or even 1 mile on land, nearly anyone can do it on a HydroWorx underwater treadmill! We'd like you to try for yourself in our Underwater Marathon event. For every mile you run or walk on the underwater treadmill, a donation of $50 will be made in your name to the LeadingAge Center for Applied Research. 

Learn more and

 register for a time slot that's convenient for you.

Have You Ever Considered High Intensity Interval Training for Your Residents? Research Shows it Worx!

 

 Join us for an exclusive after exhibit hours event including drinks, appetizers and a discussion on "High Intensity Interval Training for Patients with Osteoarthritis," with Dr. Dennis Dolny, PhD and Dr. Eadric Bressel, EdD. This event takes place on Tuesday, October 21 from 5:00-6:00pm in the HydroWorx booth (#1436). Space is limited! Learn more and RSVP today by emailing Michele a

t

 mreber@www.hydroworx.com.
Take our Survey and Win. We're asking all professional attendees to fill out our market survey to be entered to win a $50 American Express card. Five drawings will take place over the three conference days! T-shirts are also available (while supplies last).
To participate in our above activities or to enter to win $50 while you are attending LeadingAge, click here>>