Published Case Study Demonstrates Benefits of Water Exercise
Research and case studies are continuing to provide proof of the advantages of water therapy over strictly land-based therapy. One study in particular, published in the International Journal of Aquatic Research and Education, "A Case Study: Mobility and Health Impact of an Aquatic Fitness Program for a Woman With Intellectual and Physical Disabilities," provides a detailed look at how these advantages were beneficial in one particular case.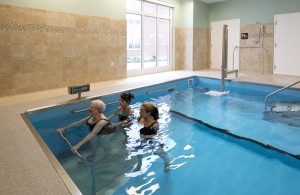 Authors- Lourdes Torres Escobar, Mary E. Sanders, Daryl Lawson and Charo Belenguer Benitez, created this case study to determine the impact of a 16-month water exercise program on the quality of life of a 27-year-old woman diagnosed with severe mental and physical disabilities. Andrea, the patient, performed numerous water exercises with a personal trainer under the supervision of a physician. The exercise and therapy sessions were performed in shallow water, 3 days per week for 30-40 minutes per session.Training objectives included cardiovascular and muscular endurance, flexibility and activities of daily living (ADL). The clinicians and researchers gathered pre and post information which included circumference measure, joint range of motion, body composition, resting heart rate and periodic video recording of mobility to measure the progress.
As a result of this program, many improvements were shown. Andrea could now extend her spine enough to lie on her back. According to the published research, "ADL mobility improvements included stair climb, sit to stand, walking speed and walking distance without aide. Additionally, her quality of socialization and emotional well-being improved. In conclusion, this aquatic therapy and exercise program, adapted to meet individual needs of a person with severe disabilities, was found to be effective in improving mobility, health and quality of life for one woman."
One of the lead researchers of this study, Mary Sanders, PhD, FACSM, RCEP, CDE, clinical exercise physiologist in the School of Medicine, University of Nevada, will be presenting the interactive session, "Splash! Functional HICT: Rehab to wellness," in the pool for the Preconference workshop for the ICAA's annual conference. HydroWorx, the sponsor of the session will be at the workshop as well as exhibiting in booth #528. 
The workshop will discuss how water exercises can be created as High-er Intensity Circuit Training (HICT), while addressing functional objectives important for land.
As a result of this presentation, participants will be able to:
Perform and/or develop programs for healthy and fit individuals and for those with neuromuscular challenges.
Identify strategies to implement these types of programs in a continuing care retirement community setting.
Discover some new findings about effective protocols for wellness and functional ADL that can start with a pool program.
Be sure to stop by the HydroWorx booth if you are in Orlando for the ICAA Annual Conference. We are looking forward to meeting you there and sharing more about the power of water!
Learn more and to register to the ICAA Preconference Workshop today>>