Providing Hope After Being Wheelchair Bound for 7 Years
The following blog post has been summarized from the recent article, "From Wading to Walking" by Scott Wesche, DPT, and Samantha Fleming, PTA featured  in Rehab Management.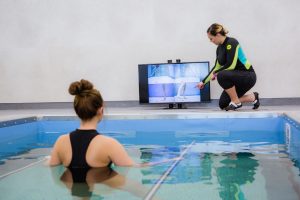 Jane could no longer walk or do common daily tasks after a traumatic car accident severely damaged her brain.  Over time she was able to regain muscle control in her upper body, but typical land therapy tactics were not enough to help her walk again. Jane developed a deep fear of falling no matter how much padding or support was there to catch her during her rehabilitation sessions. Unfortunately, she ended her pursuit to learn to walk again and returned to using a wheel chair. After seven years in a wheel chair, a friend recommended Intermountain Heath Care in Salt Lake City to Jane. With her confidence at an all time low and the sense that there was nowhere else to turn, Jane began aquatic therapy at Intermountain Health Care, and it changed her life forever.
Once entering their therapy pool, Jane had a sense of revitalization, as she no longer feared falling. The buoyancy and resistance of the water helped to hold her weight and gave her confidence.   Jane could do things that she had not been able to do for many years following the car accident. Jane is just one example of the numerous people who experience the positive mental and physical effects aquatic therapy can create.  A positive attitude is the best trait for a patient going through the process of recovery because it fuels hope and a drive to continue therapy.
For cases like Jane, the specialists at Intermountain Health Care use two different methods of aquatic therapy; The Halliwack Ten – Point Program and the Bad Ragaz Ring Method. Both programs vary from one another depending on the patient, but are highly effective in recovery. The Halliwack Ten – Point Program consists of a series of basic swim movements and exercises. The goal is to increase the patient's confidence so they can do these exercises without relying on the physical therapist to be in the water with them. On the other hand, the Bad Ragaz Method involves the physical therapist moving the patient's limbs in certain ways while floatation devices suspend them. The purpose of this second method is to strengthen, mobilize, relax and stretch the muscles.
The staff at Intermountain Health Care in Salt Lake City, UT is committed to helping their patients fully recover from injury or surgery. The most important thing for specialists at the facility is to keep the patients safe and at ease. Once they accomplish that, they can begin working towards recovery. Jane has made great strides since beginning aquatic therapy and every day she continues to progress towards her goal of walking without assistance.