Preparing Successful Aquatic Therapy Programs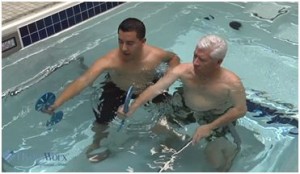 The following post is summarized from the recent article, "5 'Must Haves' for Aquatic Therapy Programs," written by Joe Sullivan, owner of Peak Performance Physical Therapy, and published in Advance for PT magazine.
In this recent article, Joe Sullivan owner of Peak Performance Physical Therapy in Nassau County, NY, discusses the important advantages of successful aquatic therapy programs.
The natural properties of water provide benefits for nearly all patient populations. The buoyancy of the water removes between 20-90% of a patient's body weight, allowing them to move more freely and virtually pain-free. Even individuals who are unable to perform therapy or exercise on land are able to see immediate results in the water. The hydrostatic pressure naturally decreases inflammation and increases circulation. This natural pressure over the body helps to remove lactic acid and reduce pain.
The buoyancy of the water allows for falls prevention programs. The amount of Medicare patients at Peak Performance Physical Therapy that have also had a fall in the last year is quite shocking. Falls prevention programs allow patients to reduce their risk of falling, by improving their balance and correcting posture and gait. Gains made in the water transfer to activities of daily living and can help reduce the risk of falls in everyday situations.
The aquatic environment is ideal for post-op rehab. The number of joint replacements continues to rise and aquatic therapy allows patients to begin rehabilitation and activity sooner. Because the water provides a virtually pain-free environment, patient compliance increases while range of motion and muscle strength can be maintained after surgery, which ultimately improves overall function.
Aquatic therapy allows a clinic to be a "facility of choice" for referring physicians and patients. This creates an ideal environment for word-of-mouth marketing. As patients are referred to Peak Performance Physical Therapy, have exceptional results with aquatic therapy and subsequently thank their physicians for the referral, patients and doctors become advocates for the facility.
It is also important to understand what factors should be considered when purchasing a pool for aquatic therapy. Sullivan mentions three key things to consider:
Craftsmanship including quality, service and maintenance.
Size of the pool in relation to your needs, consider how many patients you would like to see at once.
Additional features enhance aquatic therapy outcomes, including dumbbells, noodles, weights and most importantly underwater treadmill.
Aquatic therapy, when utilized correctly, can produce the most advanced rehabilitative outcomes available. Smart choices regarding your investment in this modality can help position your practice as one offering the best in technology and the full spectrum of care.
If you are considering adding aquatic therapy to your facility, watch our recent webinar on-demand, "Creating a Scalable Business with Aquatic Therapy."