Powering Podium Performances at Canadian Sport Institute Calgary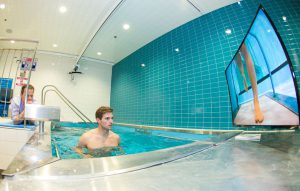 Calgary is a land of prairies and foothills, 80 km from the front range of the Canadian Rockies. It's also brimming with world-class athletes and coaches, a strong sporting infrastructure, and the Canadian Sport Institute Calgary (CSI Calgary), a high-performance institute that has developed hundreds of world champions since its inception in 1994. Athletes supported by CSI-Calgary have won an astounding 421 medals in world competition.
A Look Inside CSI with Physio Lisa Hoffart
Earlier this week we caught up with Lisa Hoffart, Physiotherapist at CSI Calgary and staff member of Group23, the Physiotherapy group working hand-in-hand with CSI in providing athletes with expert sports medicine services. Lisa specializes in aquatic therapy and holds degrees in Physiotherapy and Kinesiology, with advanced designations in biomechanics, manual and manipulative therapy, radiology and needling.
Lisa shared with us how she's seen their HydroWorx pool enhance training and rehab for her podium-bound patients through the years.
Benefits of HydroWorx Pool when Rehabbing Athletes
"Any discussion of the pool needs to start with gravity, and the lack of its presence in water," says Hoffart. "The natural properties of water, including buoyancy, hydrostatic pressure and resistance make water an extremely effective environment for rehab and conditioning."
The underwater treadmill provides the ground support, but unlike land running there is a significant reduction of impact forces on lower extremities. Moving against the resistive forces created by water works core muscles in a unique way. And, says Lisa, water also creates a very safe place to rehab.
"For example," says Lisa, "we had a young, injured freestyler who was quite sad about not being able to train. He'd hurt his knee and lost the 'athlete' part of his identity for a time. It was devastating to him. The first time I saw him smile after his injury was when we put him in the HydroWorx pool and gave him a flutter board. He stood on it and balanced, without worrying for a moment that he would fall and undo his surgery. He could just play! He had missed that for several months."
The Spirit of World-Class Athletes
"When you see an athlete who's maybe had an Achilles repair and hasn't walked without crutches or without a cast for many, many weeks, and he or she gets in the pool to walk for the first time—it just never gets old. To see the smile on their face is amazing. It's very gratifying to see them run for the first time after an injury, especially when they weren't 100% sure that would ever happen again. I've seen athletes cry at this point in the water."
Working with these special athletes has affected Lisa as a physio.
"They inspire me," she says. "It's their time, a once-in-a-lifetime window for them. That realization makes every one of us here 'up' our game. When there is a problem, we don't get a month to figure it out; it has to work now."
Group23 and CSI Calgary, Working Hand-in-Hand  
By working together, CSI and Group23 give athletes the best opportunity for recovery and return to sport.
"It's a pretty remarkable collaboration because between the two services," Lisa continues, "we're able to provide so much more, working together, with each service providing something slightly different. For the athlete, care becomes something very continuous and congruent."
Yes, CSI and Group23 provide world-leading training environments. They deliver world-class sport science and medicine. But more than that, they deliver hope to young athletes with world-class dreams.
Thanks, Lisa and team, for your own podium-worthy efforts!
To learn more about how to use hydrotherapy to train your athletes, download our whitepaper here>>