Powerful Fall Prevention Programs with Water
The following post is an article written by Jackie Halbin, Living Well Manager, CPT, Certified FallProof™ Instructor and Naoky Sato, MSPT, GCS (board certified), CPT, Certified FallProof™ Instructor published for the ICAA. 
You've heard the statistics about falls in the older population, such as one in three 65-year-olds will fall annually or that the chance of falling rises proportionally, reaching a significant 50 percent by age 80.
Falls are a serious concern, especially among retirement communities. 
It's critical to consider all the factors that lead to falls (e.g., biological factors, behavior risk factors, environmental factors, socioeconomic factors) as we create plans to help mature individuals live life independently as safe as possible.  After all, there seems to be a pervasive myth that senior adults aren't ready for intensive exercise or fall prevention programs, that they can't handle challenging workouts.
Nothing could be further from the truth! 
In our combined years working at Lakeview Village, Lenexa, Kansas, we've found that many people over 62 are very fit; however, they may have had an incident, which caused an imbalance, or weakness over time and has led to balance/fall issues.  We know it is important to have the proper programs and assessment tools in place to provide our participants with the best plan of action.
That's where our HydroWorx 1200 series pool and FallProof™ H2O programs entered  the picture.
Aquatic therapy is ratcheted up a notch with the warm-water HydroWorx pool when we're training our community members on preventing and reducing falls.  Thanks to the underwater treadmill, video camera/monitor and resistance jets, we're able to offer our FallProof H2O program with the plan of stopping major incidents from happening.  HydroWorx is the staging ground for FallProof H2O, incredible opportunities for personal achievements abound!  And the versatility of the programs keeps clients coming back; in fact, we've had zero "no shows"!
Aquatic Therapy Gets a Boost with HydroWorx.
At Lakeview Village, we use the FallProof H2O program in combination with the HydoWorx 1200 for clientele who are transitioning from therapy services into our Living Well program.  The therapy pool has a generous footprint, which easily accommodates two exercisers plus a leader, and is much easier for the client to assume different positions and postures in the water.  It's meant the difference for many members of our population who otherwise might not be able to safely move on land.
FallProof H20 provides an array of positive outcomes for participants, including center of gravity control training, multisensory training, postural strategy training, gait pattern enhancement training, strength and endurance building, and flexibility training.  Just as importantly, FallProof H20 gives our participants psychological benefits, as they feel more "in control" of their daily lives.
Who wouldn't feel better when able to constantly see improvements that transfer from water to land, not to mention afford participants with a way to burn calories, build muscles, become stronger (inside and out!) and even socialize with their peers?
FallProof H2O in the HydroWorx offers a unique aquatic environment for re-learning balance and mobility.  The pool allows us to add multiple layers into the program by challenging our clients with speed, resistance (in all directions) and water depth. This rich layering allows the client to advance to higher levels.
For example, a typical client progression might proceed as follows:
mastering walking with good posture in an aquatic environment;
mastering walking with good posture in an aquatic environment with speed;
stopping and starting in a water environment; and
changing the gait pattern with speed and resistance (e.g., longer, shorter, higher, wider, narrower.)
Throughout the process, the HydroWorx pool's underwater video camera allows the instructor or therapist to watch the client's upper body while simultaneously viewing his or her foot strike or lower body.  (This type of view is almost impossible in a regular pool, where the view of the lower body is obscured by the water's refractive properties.)
Consequently, when the underwater video camera is hooked up to a TV monitor, both client and physical therapist can capture changes of gait pattern and posture throughout the entire assessment period.  The result?  Immediate feedback on any changes in posture, mobility or range of motion.  (Clients appreciate being able to see what's happening underwater, too.)
The HydroWorx pool also affords core stability resistance and strengthening with the built-in, high-powered jets, especially for older adult patients who cannot tolerate land therapy.  We use the resistance jets to work against clients, with clients or to the clients' sides, depending upon the exercise.
By "mixing it up" and utilizing the jets during walking, turning, closed-eyes,  using arm levers, pushing, pulling and other activities, individuals can be given multiple challenges.  We also utilize the jets for soft tissue mobilization, increasing soft tissue extensibility via the water's natural warmth and buoyancy.  In tandem, the camera and adjustable water pressure jets work together to help the patient take control of his or her pathomechanics of movement.
Finally, with the HydroWorx, we can move from 0-6 feet in terms of water depth.  By starting a client at a lower depth, we can slowly introduce him or her to the exercises in an atmosphere that gives them better control of their center of gravity.  As they make strides, the depth can move to a shallower level, which gets them ready for stable land-based movement.  Our standardized tests (e.g., Tinetti, M-CTSIB, Dynamic Gait Index, Fullerton Advance Balance Scale) help to determine specific problem areas.  For clients with joint pain, weight-bearing, range-of-motion activities are made comfortable in deeper water.
Darrell's HydroWorx Story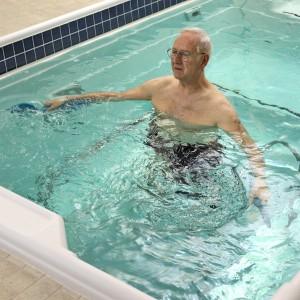 A terrific example of a HydroWorx and FallProof H20 success story has been Darrell, who started the program through an incident which led to therapy/rehab.  Upon completing therapy, Naoky, his therapist referred him into FallProof H2O.
Darrell's first assessment (which is always done on land) showed he needed specific work on lower body strength, center of gravity control and lower body flexibility.  Upon completing his assessment, he joined the FallProof H20 program. He has been participating in the sessions twice a week and is showing incredible improvement.  In fact, he just told me the other day that he has started using a cane instead of his walker.
Darrell's last assessment (also land-based) showed marked improvements across the board, however, most impressive was his lower body strength increased by 33%, center of gravity control improved by 60%.  There's no doubt that this proves just how beneficial being in the HydroWorx pool has been for his overall well-being and future wellness success.
All-in-all, our HydroWorx pool has afforded Lakeview Village with endless possibilities.  We've seen amazing breakthroughs and look forward to offering our population further aquatic activities using our series 1200 unit.  And nothing is better than witnessing the pride of our participants as they grow stronger and enjoy life.