Pool workouts assist in Pro Football ACL recovery
The following blog post has been summarized from the recent article, "After a season lost to injury, Kevin White and Kelvin Benjamin return on a mission," by Ben Baskin of Sports Illustrated published August 8, 2016.
Football season is here and fans everywhere are cheering for their favorite players. It's hard seeing a player get injured, especially early in the season. Kelvin Benjamin, wide receiver for the Carolina Panthers, knows this pain all too well as he suffered an ACL and lateral meniscus tear during a preseason joint practice with the Miami Dolphins last year.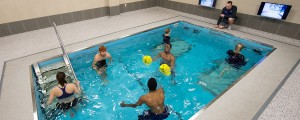 Benjamin broke off into a one-on-one passing drill with quarterback Cam Newton. As Benjamin attempted to speed-cut into an opposing player, his knee buckled. For the first time ever in his career, he was carted off the field, uncertain of what his future in football would be.
Along with Benjamin, 37 other NFL players tore their ACL before week 1 of the regular season. According to the American Academy of Orthopaedic Surgeons, there are more than 200,000 cases of ACL injuries each year with approximately 100,000 of these knees reconstructed annually. Increasingly, aquatic therapy is being harnessed to help generate remarkable rehabilitation breakthroughs previously thought impossible by traditional standards.
Learn from professional football athletic trainer Eric Sugarman how water enhances ACL rehabilitation by downloading this tip sheet.
Benjamin was back in the Panthers' facility full-time within a week of surgery. To start, two athletic trainers pushed down on his leg, straightening it past the point of comfort, in order for him to regain extension in his knee. In addition to land therapy, which was limited early on due to weight-bearing status, Benjamin exercised in a HydroWorx 750 Series therapy pool. In the pool, he held on to a metal bar and lifted his knee up and down repetitively. For people who have just suffered a tear, aquatics can be used to intervene against further injuries and side effects — such as the loss of balance, mobility and muscle strength. While regular land jogging can "jar" the body, these foot-striking forces are drastically reduced underwater. Over the long term, there is also less burden on the body and reduced risk of injury.
As the season continued, Benjamin was on crutches for six weeks. As time progressed, he was able to start a training regimen that included single-leg balance and strengthening exercises. Four months after surgery, he began jogging on land and cheering his teammates on as they entered the playoffs.
This year is off to a much better start. In his first game back this season, Benjamin caught 6 passes for 91 yards and scored the game's first touchdown. We're cheering for a healthy season for him and the team!
Download our tip sheet "ACL Recovery With Water Therapy" to learn how using water can enhance ACL recovery.