Pool Protocols for Fantastic Football!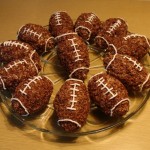 As we celebrate the start of another football season, we'd like to share with you some of the aquatic training secrets of the pros.  Though you can certainly implement some at your home, gym or workplace pool, we do recommend exercising with an athletic trainer who understands aquatic therapy.
As you can see from THE 1ST VIDEO from Utah State Athletics, pool protocols for athletes are hardly easy.  Much like land-based exercises, the exercises done in the water give athletic trainer Mike Williams' offensive linemen the skills they need to get the job done right on the gridiron!
In THE 2ND VIDEO, shot at ACCUA, Savage, MN, Matt Spaeth performs a number of maneuvers per Chris Kost's instructions.  Both the case study and pool protocols give a solid perspective on what it takes to prep one's body for the rigors and expectations of the NFL.
Finally, the THE 3RD VIDEO shows the pool's versatility for all football players.  Also filmed at ACCUA, high school defensive lineman Travis Polster goes through a number of stretching and strengthening moves.