PEDIATRIC SPORTS MEDICINE AND PRO SOCCER MERGE ON THE PLAINS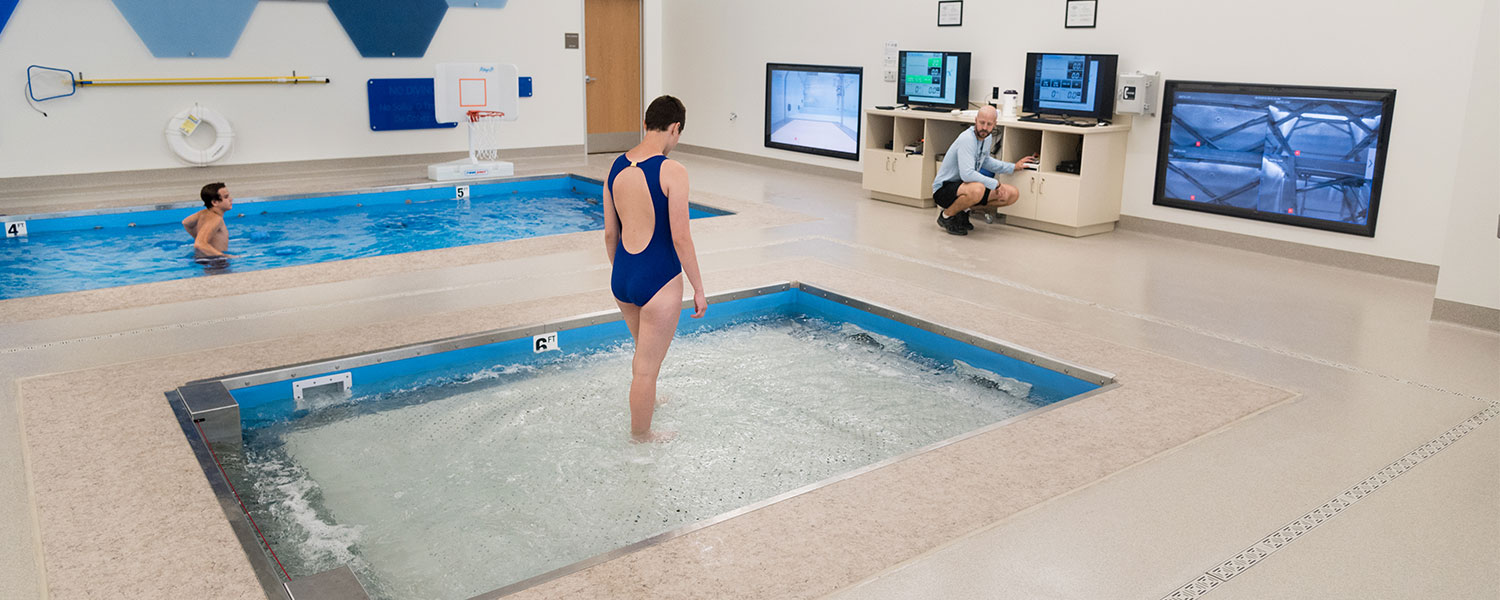 When Children's Mercy Kansas City formed a partnership with Sporting Kansas City and U.S. Soccer and announced they would build the new Sports Medicine Center at Village West, they committed to not one, but two HydroWorx pools systems with underwater treadmills.
Children's Mercy, known for its 120-year history and nationally-ranked pediatric specialty care, is no stranger to aquatic therapy; for many years their downtown location offered more traditional pediatric aquatic therapy. They've seen the benefits of unweighting patients with warm water and utilizing water's buoyancy, hydrostatic pressure, resistance and sensory stimulation. Now, with their alliance with pro soccer, everyone from elite-level athletes tear to adolescent athletes mending an ACL tear will receive exemplary care in the HydroWorx 2000 and HydroWorx 3500i.
"We've had a pool at our main hospital for a number of years and it's been received very well with our more traditional pediatric population," stated Jason Yoder, DPT, Operations Manager at Village West. "We use that pool regularly and have developed a team of experienced aquatic therapists who are now ready to serve our patients rehabbing from sports injuries at the Village West gym.
Two models allow for maximum versatility
Jason and his team were first interested in the HydroWorx 3500i, a pool with multiple water depths which allow clinicians and PTs to treat a variety of patients, athletes, injuries and stages of weight-bearing statuses simultaneously.
"Our team realized we needed to have the aquatic component to truly say we have a complete and comprehensive performance package," continued Jason. "We knew the 3500i would be the best fit for our more traditional youth and adolescent population because of its multiple water depths, size and versatility."
The HydroWorx 2000 came into view as the partnership determined what modalities would be most advantageous for the top-tier athletes.
"With our research on elite-level athletes and some of the more advanced training methods, we needed the HydroWorx 2000 for its adjustable floor and for more of the running, jumping, cutting and gate retraining. The 2000 completed the aquatic package for us."
A start of something new
Jason has been with Children's Mercy since they started their sports program back in 2013 and has seen it progress through the years. The new partnership and sports medicine center add fuel to the program's already hot rehab and therapeutic fire.
"It's very exciting to be involved with a pro sports team and it's given us a lot of opportunities that we probably otherwise wouldn't have had this quickly. The partnership puts us on the map as an elite sports med program, not just an elite pediatric institution. We're fortunate to have these resources available for our patients."
The new Sports Medicine Center at Village West meets the needs of athletes by offering 13,000 square-feet of state-of-the-art equipment, including a large turf area, weight room, professional-grade batting cage, and a human performance and motion analysis lab with 3-D motion analysis. Twenty cameras in this lab record gait and movement patterns for both elite athletes and pediatric cerebral palsy and spina bifida patients.
Mentorship opportunities provide a unique culture  
Because the gym is used by Sporting Kansas City and U.S. Soccer, student athletes train and rehab side-by-side with pro athletes. Mentorship opportunities are inevitable and encouraged.
"Most young athletes aspire to make it to the next level, whether that's high school, college or professional. To be using the same space that their mentors use and to see the type of hard work these pro athletes put in, that's a great culture. That's been a neat thing for our patients."
We see the rehab marketplace shifting, focusing on synergetic partnerships. And it makes sense. When resources are shared, more lives are touched and everyone wins. This seems to be the case in the Heart of America.