Part 3: What's the Right Pool for Your Family and Your Home?
A Four Part Series from our Residential Expert,  Michele Reber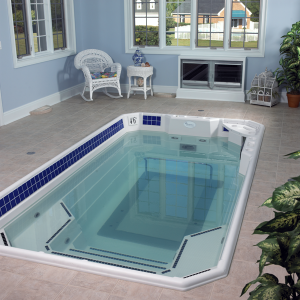 Being with HydroWorx Pools for many years, I have realized a lot of homeowners have some great questions about what to look for when buying a pool- there are so many different models out there, how can you possibly narrow your search down?  This series covers 4 important questions to ask yourself when considering a pool for your home.
Part 3: What costs are involved in owning a pool?
This is an important question, but a really hard one to answer!
First, you need to consider the cost of the pool and installing the pool. This varies tremendously based on a few things:
Are you installing the pool in-ground or above ground?  Obviously the in-ground installation requires more excavation and will add on cost.
Where do you live and what is your soil composition? For instance, rocky ground will be more expensive to excavate than sand.
Will this be an inside or outside installation?

If you are doing an outside installation you probably want to use a pool/landscaping company- this will generally be a more economical way to go.
Inside installations allow for year round use in any climate, but generally bring the cost up.  For an inside installation, I would recommend using a general contractor with electrical/plumbing capability.

What are the zoning requirements for your area? Check with your local zoning board and township/municipality for specifics regarding pool installations. Costs will vary depending on these requirements.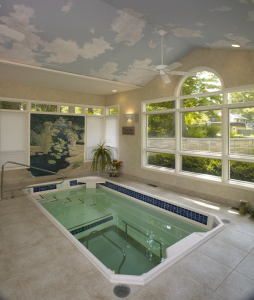 Second is the pool maintenance. A pool requires regular maintenance and there are of course costs associated with that.  All pools require a method for cleaning, usually chemicals. The pool will also require additional electricity for heating the pool.  And filling the pool will take more water.  The nice thing about purchasing a small pool is that the cost to maintain the pool is generally less expensive . As long as the proper water chemistry is maintained, most small pools only need to be drained about once a year!   This requires some testing of bromine levels, pH  etc. as well as changing the pool filter about every 6 weeks.  The cost of chemicals, heating and water decreases are all significantly less than for a large backyard pool. There are also alternative cleaning options (such as UV lighting) that can be a higher upfront cost, but can decrease or eliminate the long term cost of chemicals for the pool.
Lastly, don't forget secondary costs not directly related to the pool itself. You may have to consider the cost of heating the room that the pool will be installed in, as well as what you will use for humidity control.  The best way to control humidity is to purchase a pool cover and keep the pool covered when you are not using it.  (One company that provides pool covers that are efficient, as well as safety covers is Cover Pools. ) Having large open windows, as well as higher ceilings can also help eliminate humidity.  I always recommend getting a dehumidifier to eliminate the moisture in the room- this will prevent mold from growing and maintain a nicer environment.
Learn more about current offers for Residential pools here>>
Read the first two posts of this series "What's the Right Pool for Your Family and Your Home?" here>>
Stay tuned for Part 4 Coming Soon!