OREGON PROJECT RELIES ON UNDERWATER RUNNING TO PREP
It's that time again. It only comes around every four years and if you blink, you'll miss it. Tomorrow, Friday July 1 marks the beginning of track and field trials for the most important athletic competition in an athlete's career.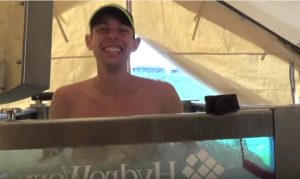 We recently spent some time with members of the Oregon Project running team, based in Eugene, OR, to see how they are utilizing the HydroWorx 300 Series in Park City, UT. Park City is the team's summer high altitude training location which allows the athletes to be even more prepared for their upcoming races. Because underwater treadmill running is such an important part of their regular training in Oregon, having it at altitude training is imperative for their success.
Watch this video of the Oregon Project coaches discussing why underwater treadmill running is so important to their success>>
The head coach of the Oregon Project team, Alberto Salazar, shares that every single one of his athletes utilizes their HydroWorx 300 Series in Utah. The breakdown is such that, however many miles the athlete runs on land during the week, they do an additional 25% of that distance on the underwater treadmill. According to Alberto, the main reason they use it is that it allows the athletes to train at a higher level without the risk of injury which they could experience from adding mileage at full weight on land.
"We couldn't do what we do without HydroWorx and that's why we have it here in Park City. It is as valuable as a pair of running shoes or our track, we have to have this [HydroWorx underwater treadmill]."- Pete Julian, Oregon Project Coach.
Galen Rupp, a 2012 Silver Medalist and member of the Oregon Project team, is currently running about 115 miles per week on land and another 30 miles per week on their underwater treadmill in Park City. Additionally, because they are able to run in an unloading environment which reduces the pressure on their joints and muscles, the coaches are able to be more aggressive with some of the other components of the athletes' training regiment such as speed and strength training.
And now all of this training has led these athletes to this one moment: The Trials.
The trials are held in Eugene, OR beginning on July 1st and wrapping up on July 10th. Kicking off the trials is Galen Rupp. Rupp is entered in the 10,000 meters at the Trials in hopes of bringing home another medal in August. He has already qualified for the marathon (a first for Galen) and is looking to double in the marathon and the 10,000 meters which is no small feat! The 10,000-meter final is scheduled for Friday at 9:15 p.m. ET and will be broadcast live on NBC. After day one wraps up, we will be watching the Oregon Project team in the 1,500m and 5,000m races. Matthew Centrowitz, Shannon Rowbury, Jordan Hasay, Eric Jenkins and Mary Cain will be taking their shots at the big stage and we're excited to see them get there! Be sure to follow along with us on our Twitter and Facebook pages to see how they are doing.
Here is an inside look at high altitude training for the Oregon Project team:

Are you interested in learning more about underwater treadmill running? Download our free E-Book today, "Underwater Treadmill Running," written by Alberto Salazar and Dr. Dennis Dolny.>>