Oregon Project Team Made a Splash
The track and field trials in Eugene, OR have officially wrapped up and encompassed some memorable moments. Three U.S. Oregon Project athletes will be heading to the big stage in August to represent the United States; Galen Rupp, Matthew Centrowitz and Shannon Rowbury.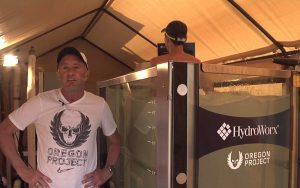 Shannon Rowbury, a fierce competitor, competed in the 1500-meter trial and finished second with a time of 4:05.39 qualifying her. Teammate Matthew Centrowitz earned his fourth U.S. outdoor title and second berth into the games with an astonishing time of 3 minutes, 34.09 seconds. That was a new record that beat the previous record holder, Steve Scott's time by more than one whole second! Lastly, Galen Rupp, London Silver Medalist, qualified in the marathon in February in his very first attempt at the distance, which is no small feat. He not only qualified, he won the marathon with a time of 2 hours, 11 minutes and 12 seconds. At the track and field trials, Galen competed in the 10,000 meter race where he won by a significant distance and qualified for the 2nd time. The last time an American athlete pulled such a 10,000-meter/marathon "double" was in 2004, when Dan Browne placed 12th in the 10,000 meters (28:14) and 65th in the marathon (2:27:17).
Recently, we spent some time with the Oregon Project team and coaches at their high altitude training camp in Park City, UT to learn more about their training regimen. In addition to the 500 Series they utilize in Portland, they are currently utilizing the 300 Series in Utah and have been utilizing as much as possible for recovery and extra mileage.
Head coach of the Oregon Project team, Alberto Salazar, shared that all of his athletes utilize their HydroWorx 300 Series in Utah. The athletes run an additional 25% of the total distance they run on land during the week on the underwater treadmill. According to Salazar, the main reason they make use of the underwater treadmill as much as they do is because it allows the athletes to train at a higher level without the risk of injury which they could experience from adding mileage at full weight on land.
Galen has been running about 115 miles per week on land and another 30 miles per week on the construction-free 300 Series. Additionally, because they are able to run in an unloading environment which reduces the pressure on their joints and muscles, the coaches are able to be more aggressive with some of the other components of the athletes' training regimen such as speed and strength training.
Pete Julian, assistant Coach of the Oregon Project team shared just how important it is to have access to the underwater treadmill:
 "The medals could not have been won without having HydroWorx. And that's why we have it in Park City. We won't even go to altitude camp unless we have something like this [HydroWorx], because it is as valuable as a pair of running shoes or as a track. We have to have this for our training!"
Watch the video to learn more about the Oregon Project's training regimen:
Are you interested in learning more about underwater treadmill running? Download our free E-Book today, "Underwater Treadmill Running," written by Alberto Salazar and Dr. Dennis Dolny.>>